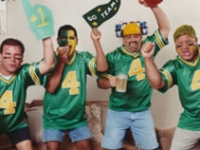 San Diego, California sets the stage when the California Golden Bears take on the #24 ranked Texas Longhorns on December 28th at the Holiday Bowl. Qualcomm Stadium will be jumping, as these two teams who are evenly matched will slug it out. The Holiday Bowl has been a San Diego tradition since 1978 and this year's game looks to be a classic. The sportsbook has the line at Texas -3, with the over/under at 47 ½.
California is led by junior QB Zach Maynard and supplemented in the backfield by junior RB Isi Sofele. The Golden Bear receiving corps is in great hands with sophomore WR Keenan Allen who ranks 11th in the nation with 89 receptions. Senior WR Marvin Jones is a viable alternative to double teams on Allen.
The Texas Longhorns come into San Diego with an identical 7-5 overall record and a frustrating 4-5 record in the Big 12. These are very poor numbers indeed for a coach of Mack Brown's stature. Brown is in his 14th year in Austin, compiling an illustrious record of 140-36. Texas also has identical numbers in the points category, averaging 28.7 on offense and 23.3 on defense. The fact that the Horns come into play still ranked 24th on the polls while losing all four of their games against ranked opponents speaks volumes about the respect of the Longhorns and the strength of the Big 12. Check the College Football Odds for California Golden Bears vs. Texas Longhorns game.
A young squad still coming to grips with the Brown system might explain the down year that the Longhorns have experienced this season. Sophomore QB Case McCoy and freshman QB David Ash have both taken snaps this year at the helm. Freshman RB Malcolm Brown has been the workhorse in the backfield while sophomore WR Mike Davis and freshman WR Jason Shipley have turned in admirable performances over the season.
Open an account for the best Sportsbook Parlay and Vegas Teaser Payouts in the Industry.