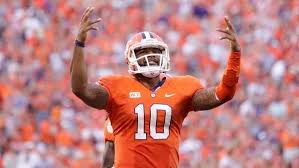 As the NCAA football season comes into Week # 12 the Offshore sportsbook business is seeing a lot of action especially at SBG Global as the season draws closer the annual Bowl Games and BCS Championship. For those fans who Bet on College football get ready for the ACC Game between two ACC Atlantic Coast Rivals as the Syracuse ORANGE (5-4, 3-2 3rd ACC Atlantic) who visit the Florida State (FSU) SEMINOLES (9-0, 7-0 1st ACC Atlantic) with the kick-off scheduled for 3:30PM ET and the game is played at Bobby Bowden Field at Doak Campbell Stadium in Tallahassee, Florida which just happens to be the Capitol for the State of Florida.
Last week after Oregons loss to Stanford, the FSU team became a strong 2nd in the BCS standings behind the 1st ranked Alabama Crimson tide and have an inside shot of the national championship game that will be played on Jan.6th at the Rose Bowl in Pasadena, California.
The visiting Syracuse Orange in their last game this past Saturday, November 9th they beat the Maryland Terrapins 20-3 on Marylands home field. The Maryland team has been struggling as they are 5-4 and looking for the 6th win to qualify for a bowl game but that win has evaded them. The Maryland QB passed for 211 yards on 21 of 40 passes and was intercepted twice. Syracuse for the game out gained Maryland with 382 net yards to as the Terrapins had 292 net yards. In this game the Orange also had their problems as they were penalized some 12 times totaling 115 yards and on 3rd down conversations only made 3 of 14 which brings concern to their coaching staff as they prepare to face the #2 Seminoles on their home field.
Those of us who Bet on College as well as Seminole fans are anxious to see the remaining games that FSU has left, as they continue their drive for the national championship and they certainly need to win the games left on their schedule including this game with Syracuse. In their last game FSU romped Wake Forest 5-3 as the Seminole defense came to live as they had six interceptions for the game and two touchdowns and allowed the offense the opportunity of good field position for most of the game. That win was the clincher for the Seminoles as they now will be playing for the ACC Championship.
If Syracuse plans to win this game they need to come prepared to take on one of the best teams FSU has fielded since back in the 1999 Bowden days when they won the NCAA National Championship! Good Luck Orange!