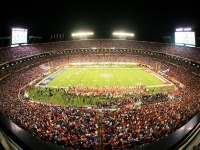 In one of the better matchups of the year so far, the No. 5 Georgia Bulldogs make a short trip to take on the No. 6 South Carolina Gamecocks on Saturday evening. The game in Williams-Brice Stadium is scheduled to kick off at 7:00 PM ET, and will be televised on ESPN.
The Bulldogs come into this game undefeated at 5-0 overall and 3-0 in the SEC. They escaped a shootout with Tennessee last Saturday, 51-44. Combined at 95, this was the fifth-most points scored in a non-overtime SEC game. While the Volunteers put in a 20-point second quarter, the Dogs scored 21 in each of the first and third quarters. Georgia held a 560-478 edge in total yards, and a 282-197 edge in rushing yards. So far this season, they have scored 45, 41, 56, 48, and 51 points. Start your College Football betting on No. 5 Georgia vs. No. 6 South Carolina Game.
The Gamecocks are coming off of a 38-17 victory over the Kentucky Wildcats, after overcoming a slow start. They trailed 17-7 by halftime, but scored 31 points over the final two quarters while shutting out the Cats. South Carolina ended the game with a 348-243 edge in total yards, including a 200-120 edge in rushing yards. QB Connor Shaw has thrown 35-of-39 over the past 2 weeks, while the defense is just as impressive. They have the 7th ranked rushing, 13th ranked total, and 6th ranked scoring defense.
The host in this series had been 14-5 ATS, but is on a current 1-5-2 slide. Georgia is just 2-10 ATS as the road dog recently. South Carolina is 5-1-2 ATS lately in this series, but 21-9 ATS at home. Check the College Football Odds for No. 5 Georgia vs. No. 6 South Carolina Game.
The last time these two teams met, in 2011, the Gamecocks were favored by 3 points, with a final score of 45-42 and South Carolina coming out on top. In 2010, the Bulldogs were 3 point dogs, losing 17-7. A 2009 meeting favored Georgia by 7 points, with a final score of 41-37 for the Dogs. In 2008, Georgia was a 7 point favorite, winning 14-7.
For this weekend's game, sbgglobal.eu sports betting odds state that the Gamecocks are a 2 ½ point home favorite. The over/under is set at 56 ½ points.
Open an Account for the best Sportsbook Parlay and Vegas Teaser Payouts in the Industry.
Check the Game Podcast: