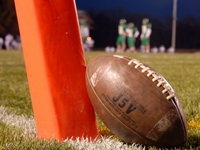 The 2012 collegiate football season is officially upon us. The number nine ranked South Carolina Gamecocks head to the Music City tonight to meet the Vanderbilt Commodores in game 1 of their SEC schedules. The first kickoff of the NCAA year is scheduled in Nashville's Vanderbilt Stadium for 7:00ET. The game will be televised nationally on ESPN.
The Gamecocks and their fans have sky high hopes following last years 11-2 record, setting a new mark for victories by South Carolina. They still could only manage a second place finish in the SEC East where they were 6-2 behind Georgia's 7-1. Coach Steve Spurrier will attempt to control the hype in the opener.
Look for South Carolina RB Marcus Lattimore to pick up where he left off prior to suffering a knee injury and missing the last 6 games in 2011. He appears 100% healthy and ready to go tonight. The Gamecocks have 7 returners on last year's offensive squad, and 5 from last season's highly ranked defense returning. Check the College Football Odds for South Carolina vs. Vanderbilt Game.
Vanderbilt finished the 2011 campaign at 6-7 overall and were 2-6 in the conference. Returning from last year are 8 members of their offense, as well as 7 defensive players.
The last time the 'Dores defeated the Cocks was 2007, when Vanderbilt pulled off a 17-6 stunning upset, ending Spurrier's 14-0 record against SEC East opponents. In their previous meeting in 2011, South Carolina was favored by 15, and ended up winning 21-3. In 2010, South Carolina was favored by 12, and defeated Vanderbilt 21-7.
Spurrier-coached teams are 17-2 all time against Vanderbilt. In last year's matchup between these two teams, the Gamecocks dominated the Commodores. South Carolina came out early in the season allowing 33.3 points per game in its first three games, but tightened up the defense. By the end of the year, they allowed less than 17 points in 8 of their final 9 games. Their defense was ranked third last year, behind only LSU and Alabama. Start your College Football Betting action on South Carolina vs. Vanderbilt Game.
South Carolina is a 6.5 point road favorite in this one listed at a -$110. The same $110/$100 moneyline exists for the under/over of 45 total points.
Open an Account for the best Sportsbook Parlay and Vegas Teaser Payouts in the Industry.
Check the Game Podcast: