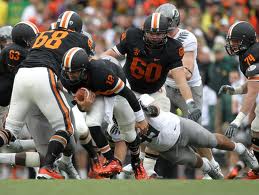 This Thanksgiving Weekend in South Florida for those who Bet on College football as SBG Global or their favorite Online sportsbook should be excited as Oregon State BEAVERS (6-5, 4-4 4th PAC 12 North) visiting the Oregon DUCKS (9-2, 6-2 2nd PAC 12 North) with kick-off at 7:00 pm ET at Autzen Stadium in Eugene, Orgon with weather forecast Cold, Cloudy with mild winds NE. This game is a great rivalry and it's nicknamed the annual Civil War of the PAC 12.
The Beavers opened their season with a close loss to Eastern Washington 49-46 then had a winning streak of some six games through October 19th then experienced a four game losing streak as they come into their last game of the season with their #1 rival Oregon. In their last game this past Saturday they had that 4th loss as they were beaten by Washington in a big way 69-27 and the Beavers scored all 27 of their points in the 4th quarter of the game but came up far short to win. The Washington offense was able to amass some 692 (530 rushing and 162 passing) net yards on 82 plays while the Beavers had a total of 71 plays for 414 (106 rushing and 308 passing) net yards. A big factor in the game that hurt the Beaver was their inability to convert on 3rd downs as they were only able to 5 of 14 opportunities coupled with the fact that their QB was intercepted three times in the game.!
It's amazing that during this 2013 football season the PAC 12 has come up with nine teams that are eligible for bowl games with the Rose Bowl, Alamo, Holiday, Sun, Las Vegas, Fight Hunger and the New Mexico Bowl.
The Ducks started their 2013 trek in the PAC 12 with eight straight wins, then on the 7th of November lost to Stanford their first season loss that left them at 8-1 then followed a win at Utah 44-21 and it appeared they were back on track but then last Saturday they lost a very strange game toe Arizona 42-16 which brings them to their last regular season game with Oregon State which they would like to win and finish the season with a disappointing 9-2 record. That loss was a huge blow for the Duck's National hopes and possibly the BCS Bowls also. Let's hope both the Beavers and Ducks fulfill their season hopes in this Friday night game and good luck to both!