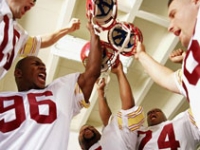 In a classic NCAA rivalry the Michigan Wolverines travel from Ann Arbor to South Bend, In. to face off against the Notre Dame Fighting Irish Saturday night. The contest in Notre Dame Stadium will be carried nationally on the NBC television network beginning at 7:30 PM ET.
Michigan (2-1) is ranked 18th in the country despite an opening night 41-14 loss to Alabama. They rebounded with a "too close for comfort" 31-25 win against Air Force and then destroyed poor Massachusetts 63-13 last week. QB Denard Robinson has earned 823 yards in just the past 2 weeks.
Number 11 ranked Notre Dame (3-0) is seeking to go 4-0 for the first time in 10 years and hope to break the rankings top 10 with a victory here. The Irish have also racked up their first win over a Top 10 team since the 2005 season by defeating the Michigan State Spartans in Week 3. Start your College Football Wagering on Michigan vs. Notre Dame Game.
If history is to repeat itself, look for Michigan's QB Robinson to find a way to win this game late in a close one, as has been the case the past 2 years. Over the last two seasons, Robinson has earned 948 yards over the Irish. In 2010 he ran the ball in with 27 seconds left on the game clock for a 28-24 victory. In that one, he set the school record with 258 rushing yards and 244 passing yards. Last year, he threw for a TD with just 2 seconds remaining for a 35-31 win.
The underdog rules this series, gong 24-of-28. Notre Dame is 20-36 ATS at home recently, while the Wolverines are 1-6 ATS as road favorites. Michigan has won the last 3 straight against the Irish and are 5-1 in the past 6. The Wolverines lead the all time series versus Notre Dame 23-15-1.
Looking at the college football odds from sbgglobal.eu's sportsbook, Notre Dame is favored in the shadow of the Golden Dome by 5.5 points on a $110/$100 moneyline. The same moneyline applies on the under/over of 51 points.

Open an Account for the best Sportsbook Parlay and Vegas Teaser Payouts in the Industry.