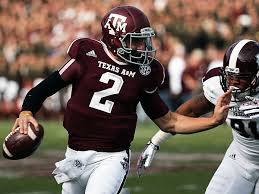 This Tuesday, December 31st New Year's Eve Chick-fil-A Bowl game comes to us from The Georgia Dome in Atlanta, Georgia e Duke BLUEDEVILS (10-3, 6-2 ACC) playing the much publicized Texas A&M AGGIES (8-4. 4-4 SEC) with kickoff at 8 pm ET on ESPN TV.
The NCAA football fans who Bet on College football have to be wondering how this Chick-fil-A Bowl came about, but then again the Duke Blue Devils have room for optimism as they have two 1st team All-ACC players in their safety Cash and in secondary Cockrell plus the erratic performances of A&M star QB Manziels in his last two games.  What Duke is hoping for in this Chick-fil-A Bowl is that QB Connette can maneuver the offense enough to keep A&M off the field which would lead to a close game.  The Blue Devils have had an amazing season since it's the first time in school history that they have accomplished a ten win season and that was by beating two ranked teams beating Virginia Tech 13-10 and Miami Hurricanes 48-30 and it's also the first time to be ranked in the BCS Standings. Much of the team's progress this year can be attributed to the improved defensive team that has decreased the amount of rushing yardage and passing yardage they give up to opponents, this season compared to 2012.  They won eight straight games going into the ACC Title game against FSU which they lost 45-7 to the incredible #1 Seminoles.
According to reports this may be the last game that the last year's Heisman winner will be wearing an Aggie uniform and if that's true he needs a great performance in this game even as it's not the BCS Championship game which all his fans had hoped for but did not come about.  The Aggies lost their last two games to Missouri and LSU then earlier lost to Alabama and Auburn, and still completed the season with a respectable 8-4 record.  The offense for the Aggies can be very strong as they average 43.6 points per game in 2013, but the defense has struggled as they have given up an average of 114.5 yards per game to the opponents.   In reality the Texas A&M team does not have much to play for in this game, but they claim they will prove that they're winning in recent years was not a fluke and they have enough offensive power to overcome in this game that the experts claim to be a little of a mismatch. Anyway good luck to the Blue Devils and the Aggies New Years Eve.