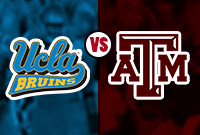 The Texas A&M Aggies are the favorites of people betting on NCAA football as they host the UCLA Bruins at Kyle Field on September 3rd. Here are the
college football betting odds
for the game:
UCLA +3 (-110) 56 (-110) +135
Texas A&M -3 (-110) 56 (-110) -155
If we were to strip both teams down to their starting QBs, though, the Bruins would be the heavy favorites. UCLA's sophomore quarterback Josh Rosen had a fantabulous 2015 season, going 266 of 447 (59.9%) for 3349 yards and 20 TDs. In addition to that, he became the first true freshman to start a season opener at quarterback for UCLA, was a Freshman All-American, and the Pac-12 Freshman Offensive Player of the Year, among other accolades. However, a team is not just its QB, and the Bruins still finished the 2015 season with an 8-5 record (5-4 in PAC 12 play) and lost the
Foster Farms Bowl
to the Nebraska Cornhuskers.
The Aggies' brand new QB Trevor Knight, on the other hand, suffered the junior slump – not as well known as the sophomore slump, but just as dreaded. Knight completed 179 of 316 attempted passes (56.6%) for 2300 yards and 14 touchdowns with the Oklahoma Sooners in 2014. Texas A&M fans who reaped the rewards of betting on NCAA football thanks to Knights feats quickly hailed him as the second coming of Sam Bradford (less kind-hearted people compared him to Landry Jones, which is still pretty good, all things considered). Unfortunately for Knight, the rise of one Baker Mayfield made pretty much redundant, and he transferred to TAMU this year after graduating from
Oklahoma in December of 2015
– at least he got an education out of it.
Long story short, Oklahoma's loss (sort of) is Texas' gain. Knight is eligible to play immediately for the Aggies; i.e., he will start against the Bruins in the place left vacant by Kyler Murray, who ironically (not really) transferred to the University of Oklahoma. Knight is athletic and skilled in the QB read option that includes quick pass options outside which Aggies offensive coordinator Noel Mazzone favors. However, Texas A&M followers who like
betting on NCAA football
will have to wait till game day to find out if Knight can deliver in the spread passing game to unlock wide receivers Speedy 'Gonzalez' Noil, Christian 'James T.' Kirk, Josh Reynolds, and Ricky Seals-Jones. Alas, Mazzone having been UCLA's OC for four seasons, the element of surprise is right out.
As for the Bruins, they have such faith in Rosen that they will switch to a pro-style offensive to allow their QB to have more control as well as more chances to push the ovoid down the gridiron. If the game boils down to Knight and Rosen battling to beat athletic coverage and avoid mistakes, then the UCLA actually have a shot at pulling the upset. On the other hand, if either team manages to establish the run between tackles, this will be only the first of many games won when the dust settles and the smoke clears.