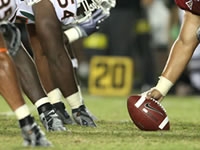 This Saturday night, the No. 23 Washington Huskies try for another upset as they take on the No. 2 Oregon Ducks. The game is scheduled to kick off at 10:30 PM ET in Autzen Stadium, and you can watch all of the action on ESPN.
The Huskies broke into the Top 25 after a stunning upset of No. 8 Stanford last Thursday night. They allowed Stanford just 10 first downs, and held a 313-235 edge in total yards. That included a 136-65 edge in rushing yards. Washington did not allow the Cardinal a single offensive touchdown, giving up just two field goals and one touchdown off of an interception. While defense won it for the Huskies, their offense is still suspect. They are ranked 106th in rushing yards, while QB Keith Price is ranked 101st in passing yards. Start your College Football Bets on No. 23 Washington vs. No. 2 Oregon Game.
Oregon comes into this game struggling against the spread, but undefeated on the season. They are 5-0 after a 49-0 blowout of the Arizona Wildcats, and a 51-26 victory over the Washington State Cougars. Only up 23-19 over the Cougars by halftime, they put 21 points on the board in the third quarter, while shutting out Washington State. Oregon is, however, just 6 points from a 1-6 slide spreadwise, despite averaging 47.6 ppg in their last 17. They did cover their previous home game by 27 ½ points.
The host in this series is 8-4 ATS, and Oregon is 8-0 ATS against the Huskies. Straight up, they have won by 25, 24, 20, 24, 34, 24, 37, and 17 points. The Ducks are also 28-13 ATS as a double-digit favorite when facing an opponent in the Pac10. The Huskies are 0-16 ATS against both Oregon and Oregon State. They are 0-5 ATS as an underdog. Check the NCAA Football Odds for No. 23 Washington vs. No. 2 Oregon Game.
The last time these two teams met, in 2011, the Ducks were 16 ½ point favorites, winning 34-17. In 2010, they were 36 ½ point favorites, winning 53-16. In 2009, Oregon won 43-19 as 10 point favorites, and in 2008, they won 44-10 as 14 ½ point favorites.
For this weekend's game, SBG Global sportsbook says that Oregon is a 24 point home favorite. The over/under is set at 65 ½ points.
Open an Account for the best Sportsbook Parlay and Vegas Teaser Payouts in the Industry.
Check the Game Podcast: