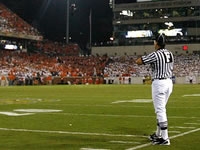 On Saturday afternoon, two Top 10-ranked teams meet in Florida, as the No. 4 LSU Tigers take on the No. 10 Florida Gators. The game is scheduled to begin at 3:30 PM ET in Ben Hill Griffin Stadium, with all of the action to be televised on CBS.
LSU comes into this game after dropping out of the No. 3 spot after a tough game against the Towson Tigers. LSU came out flat in that one, and were down 9-7 at one point in the second quarter. They ended the game on a better note, however, holding a 396-291 edge in total yards, and a 238-103 edge in passing yards. The Tigers have come from a 48-10 ppg edge in their first three weeks of the season, to their current 25-16 edge. As their offense has been faltering, though, their defense has remained just as tough, ranked 9th in rushing, 6th in passing, 4th in total, and 9th in scoring. Start your NCAA Football Bets on No. 23 Washington vs. No. 2 Oregon Game.
Florida comes into this game after a week off, but having moved up from the No. 14 spot to No. 10 after shutting out Kentucky two weeks ago, 38-0. Florida has dominated that series, winning 26 straight games over the Wildcats. They held a 403-219 edge in total yards, including a 203-60 edge in passing yards. A 21-point second quarter put the game out of reach for the Wildcats. The Gators also sport a strong defense, ranked 10th in scoring defense, and 5th in pass efficiency defense.
The Gators had gone 5-0 spreadwise against the Tigers, but dropped the last two by 11 and 16 points ATS. LSU is 13-5 ATS recently, 8-2 ATS on the road, and 8-0 ATS as a road favorite of fewer than 6 ½ points. They are also 12-2 ATS as a road favorite when facing teams with a .750 or better record. Florida is 3-0 ATS recently, and 17-3 ATS in an SEC revenge game after a SU and ATS win. However, they are just 1-7 ATS as an underdog. Check the NCAA Football Lines for No. 10 Florida vs. No. 4 LSU Game.
The last time these two met, in 2011, LSU was favored by 14 points, winning 41-11. In a 2010 matchup, Florida was favored by 7, losing 33-29 to the Tigers. In 2009, Florida was favored by 7 ½, winning 13-3, and in a 2008 game, the Gators were 6 point favorites, routing LSU 51-21.
For this weekend's game, LSU is a 2 ½ point road favorite from sbgglobal.eu. The over/under is set at 44 ½ points.
Open an Account for the best Sportsbook Parlay and Vegas Teaser Payouts in the Industry.
Check the Game Podcast: