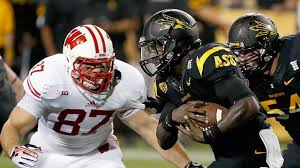 As the football season begins its final weeks the Sportsbook and the Offshore Betting Betting clan who are always so anxious to Bet on College football have early Top 25 team playing this Wednesday November 20th with two rival MAC West teams with the Northern Illinois HUSKIES (10-0, 6-0 1st MAC West) visiting the Toledo ROCKETS ( 7-3, 5-1 3rd MAC West) with kick-off scheduled for 8:00pm ET and the game is being played at the Glass Bowl in Toledo, Ohio!

The last game for the Huskies was on Nov.13th when they beat Ball State 48-27 on their own turf. The Quarterback for the Northern Illinois, Jordan Lynch who many feel should be considered for the Heisman had another great game. In this game with a National TV audience he threw for tow TD's and also ran for two touchdowns and he had a total passing yardage of 345 yards on 26 of 32 passes thrown.
His hot receiver was Snead who had 12 receptions for 1 TD while amassing 121 yards. Prior to this game the Ball State Cardinals had a 7 game winning streak going and had won 11 consecutive MAC games. That all was broken with this defeat by the Huskies. This game was tied 27-27 entering the 4th period as the Huskies managed to score 21 points while shutting out Ball State for the rest of the game. The Huskies defense was able to control the ball in the second half of this game only giving up a field goal late in the 3rd quarter. The Ball State coach was very frustrated as his team in the 2nd half had stalling problem. On the other hand he spoke very highly of the Huskies QB said he's very good with a lot of savvy who's built like a lineman but with the speed of a tailback.

For those looking for odds from a Sportsbook the best time for that would be on Tuesday the day before the game as earlier the lines move rapidly and settle down as game time draws nearer as is the case for Toledo Rocket fans since they lost their last game Buffalo at home 41-51. It appears the primary reason the Rockets lost this high scoring game was the fact that Buffalo took advantage of their passing game and won the fight for 3rd down conversions as Buffalo went 11 for 19 while Toledo was only able to make 4 of 11 3rd down attempts. Thus, the Rockets will need to step up their pass defense and improve their third down conversations if they plan to stay in the game with the powerful Huskies. Good Luck in this game to the Rockets and Huskies!