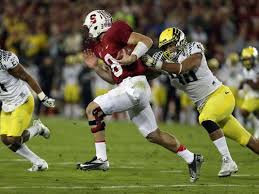 For the NCAA FB fans who follow the Online sportsbooks and Bet on College football we have another exciting Thursday Night game this Nov.7th with the undefeated #2 Oregon DUCKS (8-0, 5-0 1st North PAC-12 visiting #6 Stanford CARDINALS (7-1, 5-1 2nd North PAC-12) with kickoff schedules for 9PM ET from Stanford Stadium at Stanford, California.

The Sportsbook fans who picked the Cardinals to beat the Beavers had a winner if the total for the game which was Stanford 20 Oregon State 12 was not over their pick. For Stanford this was a hard fought physical game with the gains and scores very hard to accomplish! The Cardinals were able to keep the Beavers under 300 offensive yards and that was far below their season average to date. Stanford's defense was able to make the big plays when they needed them allowing the Beaver's no yardage on downs inside the 35 yard line of the Cardinal's some four times.

If Stanford is going to stay in the game with the Ducks of Oregon they certainly will have to improve their offensive passing game as the defensive pressure they received from the Beaver's will certainly be equaled by the Oregon Defense. They will also need RB Gaffney to play a similar game against the Ducks, as in the Beaver's game he scored two TD's and rushed for over 78 yards. The Cardinals would like to repeat last year's game with Oregon as the upset the Ducks 17-13 for their only loss of the season.

The stats at the Sportsbook indicate that the Beavers QB who has been the nation's leader in TD Passes and yards passing for the season was held to just 1 TD through the air on 41 of 57 passes that totaled 271 total yards. Stanford also contained the nations leading WR Cook to nine receptions for 80 yards and no touchdown in the game.

The Duck's last game at UCLA was somewhat misleading as they were tied at half time 14-14 and won the game 42-14 in the end. Also that was the third game that Oregon allowed an opponent to score points, first in the game. Oregon's defense played as expected and only allowed 283 yards offense by the Bruins in the game.

This game could very easily be the game of the week as both teams are ranked in the Top Ten and both from the PAC-12. For this rivalry it's a new season and regardless who won last year the pressure for the conference and the National & BCS rankings are on both teams. Good Luck Ducks, Good Luck Cardinals!