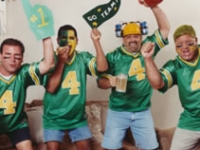 This past Saturday, the 1st of November 2014, a number of Top 5 teams played. The No. 3 Auburn Tigers now 7-1 (2nd SEC West) beat No. 4 Ole Miss Rebels now 7-2 (4th SEC West), while the No. 1 Miss State Bulldogs now 8-0 (1st SEC West) beat the Arkansas Razorbacks now 4-5 (7th SEC West). Also, the No.2 FSU Seminoles now 8-0 (1st ACC Atlantic) beat the No.25 Louisville Cardinal now 6-3 (4th ACC Atlantic) 42-31. Rounding out the Top 5, the No.5 Oregon Ducks now 8-1 (1st Pac 12 North) beat at home the Stanford Cardinal now 5-4 (2nd Pac 12 North) 45-16.
Now that we got that out of the way, we will continue with the Saturday game between the No. 3 Auburn Tigers who beat the No. 4 Ole Miss Rebels at home, on a decisive play with 1:30 left in the game when an Ole Miss receiver caught a pass going into the end zone to win the game. However, after a replay the official ruled the ball was fumbled and recovered by Auburn's McKinzy. That deflated the Ole Miss crowd, who were enjoying their team's best start since back in 1960.
The statistics on the game were fairly close, with Ole Miss having 24 first downs on 492 offensive yards, with 341 passing and 151 rushing with 2 turnovers. Auburn had 23 first downs with 507 offensive yards with 254 passing and 253 rushing with 1 turnover, while Ole Miss had 6 penalties for 48 yards.
Offensive Leaders for the Auburn Tigers were; QB Marshall, who completed 15 of 22, passes for 254 yard with 1 TD and 1 Interception. RBs Artis-Payne & Marshall carried the ball 37 times for a combine 193 yards, with Artis-Payne scoring 1 TD, while Marshall scored 2 touchdowns. Receivers Coates & Williams combined for 8 receptions for 191 yards with Coates scoring 1 TD, while the Tigers had 13 penalties for 145 yards.
Leading the Ole Miss Rebels offensive efforts were; QB Wallace, who completed 28 of 40 passes for 341 yards and 2 touchdowns. RB's Wallace & Mathers combined for 21 carries for 104 yards with Wallace scoring 1 TD and Mathers scoring 1 TD. Receivers Engram & Sanders combined for 14 receptions with Engram scoring 1 TD.
One of the problems in this crucial game for Ole Miss was their QB Wallace couldn't produce the clutch play, as he was one of the best in FBS in 4th quarter play, but this week he struggled and his offensive numbers and the Rebel's loss to Auburn reflects that.
So college football fans, if you bet on college football at SBG Global or other sportsbooks, be advised that the No.3 Auburn Tigers now 7-1 next week play at the Georgia Bulldogs now 6-2 (2nd SEC East) on the Saturday the 15th of Nov. 2014. The Ole Miss Rebels now 7-2 play at home Presbyterian College Blue Hose now 5 – 4 (3rd Big South) on the Saturday the 8th of November at 1 PM ET.