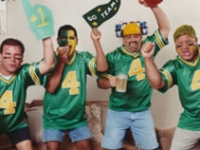 This past Monday, the 29th of December, 2014, we saw the Advocare V100 Texas Bowl that was played in the NRG Stadium in Houston, Texas. Gametime was 9 PM ET and televison coverage was provided by ESPN TV. The 7-6 Arkansas Razorbacks (SEC West) played the 6-7 Texas Longhorns (Big 12), and the Hogs stomped the Longhorns, with Arkansas QB Allen completing 2 TD passes and the Razorbacks winning 31-7 over Texas.
The win for the Razorbacks completed their first winning season record since back in the 2011 season. Arkansas did not only lead the game on the scoreboard but also statistically. On the scoreboard the Hogs scored 3 points in the 1st, 21 points in 2nd, scoreless in 3rd, and 7 points in 4th quarter, while the Longhorns were only able to amass 7 points total in the game in the 2nd quarter.
Statistically the Hogs had 20-1st downs for 351 total yards, with 160 passing and 191 rushing yards, with no turnovers, and possessed the ball for 41:10 minutes of the game. The Longhorns only had 7-1st downs for 59 total offensive yards with 57 passing and 2 yards rushing with 2 costly turnovers, while they only possessed the ball for 18:50 minutes of the 60 minutes game.
This defensive show by the Razorbacks against the Longhorns was incredible since the held them to just 2 yards rushing and 57 yards passing, and this is the same defense that shutout Top 10 teams in 2014 against Ole Miss and LSU, and in this game against the Hogs they topped their shutout performances in this game which gave the Longhorns their worst offensive game of their entire 2014 season, and a FBS worst 59 total offensive yards.
The offensive statistics of this game display the same basic outcome as the scoreboard. Leading the offense for the Razorbacks (Hogs) were QB Allen who completed 12 of 23 passes for 2 touchdowns with no interceptions, while RB's Williams & Collins combined for 40 carries and 181 yards, with Williams scoring 1 TD. Receivers Wilson & Hatcher combined for 6 receptions of 93 yards, with Wilson scoring 1 TD, and Hatcher scoring 1 TD.
The offensive leaders for the Texas Longhorns were QB Swoopes who completed 13 of 25 passes with 1 interception and no touchdowns. RB's Brown & Gray combined for 13 carries for 34 yards and no touchdowns. Receivers Harris & Warrick combined for 7 receptions for 49 yards and no touchdowns.
The Razorback motto is they are good outside their comfort zone, as in 2014 they have dominated the non conference opponents, as in their away games this season, including this Texas Bowl they are unbeaten in 4 of those games.
Football fans, who bet on college football at a sportsbook, don't worry as the Longhorns were glad for season to end, while the Razorbacks are looking forward to a prosperous 2015 season in the SEC.