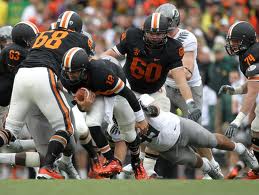 Saturday the 15th of Nov. the week 12 NCAA Football regular season brought us the game with the No. 6 Arizona State Sun Devils 7-2 (2nd Pac 12 South) upset by the Oregon State Beavers 4-5 (4th Pac 12 North) 27-35 with the game played at Reser Stadium in Corvailis, Oregon at 10:45 PM ET and was seen on ESPN TV.
The win for the Beavers was a result of the 2 fourth quarters FG's and 35 yard interception return for a TD, that sealed the victory for Oregon State over Arizona State. With this win the Sun Devils put their goal to make the finals for a 2nd consecutive spot in the Pac 12 Title game are now slim.
The Sun Devils led the game at half-time 24-14 and the Sun Devils were only able to score 3 points in the 2nd half, while the Beavers scored 7 points in the 3rd quarter, and 14 points in the 4th quarter making the final score Oregon State 35 Arizona State 35.
Statistically the Sun Devils had 20 first downs for 367 total offensive yards, with 264 passing and 103 rushing with 2 turnovers, while possessing the ball for 26:29 minutes of the game. The Beavers had 19 first downs for 498 total yards, with 251 passing and 247 rushing, with 2 turnovers and possessed the ball for 33:31 minutes of the 60 minute game.
The offensive leaders for the Sun Devils were QB Kelly, who completed 22 of 44 passes for 264 yards, with 2 touchdowns and 2 interceptions. RB's Foster & Richard combined for 21 carries for 88 yards, while Receivers Strong & Foster combined for 17 receptions for 168 yards with Foster scoring 1 TD.
Offensive leaders for the Beavers were QB Mannion, who completed 19 of 33 passes for 251 yards, with 2 touchdowns and 1 interception. RB's Ward & Woods combined for 30 carries for 273 yards with Ward scoring 1 TD and Woods scoring 1 TD. Receivers Villamin & Bolden combined for 11 receptions for 199 yards with Villamin scoring 1 TD and Bolden also scoring 1 TD.
The Beavers have a record of surprising the highly ranked teams they play, as back in 2012 they upset the then No.13 Wisconsin, and in 2008 as underdogs the beat No.1 USC in Corvallis, and in 2006 they again beat the No.3 USC Trojans at home.
So now sports fans who bet on college football at a sportbook its time for the Sun Devils now 8-2 pick it up and get ready for Washington State Cougars now 3-7 (4th Pac 12 South) as a win could mean a spot in the Pac 12 Title games. The Beavers now 5-5 next Saturday play at Washington Huskies now 6-5 (4th Pac 12 South) at 10:30 PM ET and on Pac 12 Network.