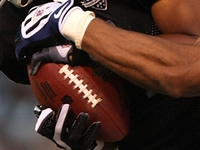 This past Saturday the 8th of Nov., in week 11 of NCAA FB, several Top 10 teams were upset. Let's take a look at the matchup between the No. 10 Notre Dame Fighting Irish now 7-2 (FBS Independents) and the No. 9 Arizona State Sun Devils now 8-1 (1st Pac 12 South) by a score of 55-31.
The Sun Devils were able to hold off a late rally to defeat the Fighting Irish, and for most of the game the Sun Devils defense kept the pressure on Notre Dame's QB Golson who had 4 interceptions and 1 fumble in the game, and was sacked 7 times by the Sun Devils. It's hard to believe, but the Fighting Irish had not relinquished 55 points in a game since back in the 2000 season.
At half time Notre Dame was trailing the Sun Devils 34 -10, the Devils came back in the 2nd half with 3 consecutive touchdowns, and the last one came with 6:30 left in the game bringing the score closer at 34-31. Thus, now with 2 loses, Notre Dame has little hope for the playoffs.
Offensive leaders for the Irish were QB Golson, who completed 22 of 41 passes for 446 yards with 2 touchdowns and 4 interceptions. RBs Folston & McDaniel had 20 carries for a combined 54 yards, Receivers Fuller & Carlisle had 9 receptions combined for 187 yards with Fuller scoring 1 TD and Carlisle scoring 1 TD. The Fighting Irish had 24 first downs, with 487 total yards, with 446 passing and 41 rushing with a total of 5 turnovers.
Leading offensively for the Sun Devils were QB Smith, who passed for 17 of 28 for 224 yards with 3 touchdowns and 1 interception. RBs Foster & Richard combined for 34 carries for 17 yards with Richard scoring a TD. Receivers Smith & Strong with 9 combined receptions for 125 yards with Smith scoring 1 TD and Strong scoring 1 TD. The Sun Devils had 22 first downs, for 224 yards in total, with 224 passing and 188 rushing, with 1 turnover in the game.
The loss for the Irish in this game can be attributed to their poor first half pay that was crucial, as their QB Golson had 3 turnovers in a four minute time period, which allowed the Sun Devils to take a 24-3 lead early in the 2nd quarter. Then QB Golson started the 3rd quarter with an interception that was his career high. Then when the game ended the Sun Devils could take a breather, as the big win they need was finally in their hands.
If you're a Notre Dame fan and bet on college football at an online sportbook, their next game is at home against Northwestern Wildcats now 3-6 (5th Big Ten West) on the 15th of Nov. at the Notre Dame Stadium at 3:30 PM ET. The Arizona State Sun Devils next Saturday the 15th play at the Oregon State Beavers now 4-5 (6th Pac 12 North) at Reser Stadium at 10:45 PM ET on ESPN TV.