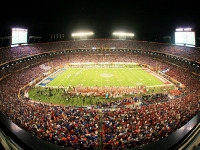 Yesterday we previewed the NFL Cardinals of Arizona and ironically today we preview the NCAA FB Wildcats of Arizona since the NCAA FB 2015-16 Season is just around the corner and begins on the 3rd of September 2015.
The Wildcats of Arizona of the Pac-12 South Division under their head coach R. Rodriguez have once again become league contenders as the team improved over the ultimate 3 years. In 2014 they had their 1st season with 10 wins, and that dates back to the 1998 season.
Yes, the even won the South Division of the Pac-12, then lost to the Ducks of Oregon in the title game for the Pac-12, then lost in the Fiesta Bowl to Boise State.
So let's take a look at the Wildcats from 2014 and the credit for the successful season goes to a very talented and well balanced offense, and finished the season as the 30th best scoring offense in the nation. That was a result of an outstanding performance from 2 young freshman players in QB A. Solomon and RB N. Wilson.
Starting at QB in 2014 Wilson passed for some 3,794 yards breaking the school record for a freshman, with 28 TD's and a 59% completion rate with just 9 intercepts for the season, and on the ground ran for some 518 yards. QB Wilson is excited as he has a tremendous roster of receivers for support this 2015-16 seasons, as 5 of 6 receiver's from last season are returning. They are led by C. Jones who had 9 TD and 1,000 yards in receptions accompanied by S. Grant with 6 TD's and 720 receiving yards in 2014, and T. Griffey, the son of MLB Hall of Famer Ken Griffey Jr.
Meanwhile RB Wilson as a freshman last season scored some 16 TD's and rushed for 1,376 yards, and if he has a repeat performance or better, and QB Solomon has an improved passing attack, the Wildcats could very likely become a very feared offense by their opponents.
Their defense for 2014 returns their 7 front starters who had a solid 2014 season. Their LB W. Parks led the defense with 82 tackles of which 13 were for losses, and is complemented by S. Wright. Their defensive partners held the opponents to an average of 170 yards rushing for each game in 2014.
However, the secondary has issues this 2015 season as the lost 3 starters. But since the Wildcats are not a team that relies on their defense to win games, if they want to reach another level of superiority in their league, they must improve their secondary, as the defense was ranked in the nation in 2014 at 101st.
They claim their key player is S. Wright who was a 2 star recruit who in his sophomore year had a five star performance, and was the Pac-12 Defensive Player of the Year, Lombardi winner, and a unanimous All-American team selection in 2014.
Certainly he was well honored as he led the NCAA with 163 tackles while forcing 6 fumbles, and had 14 sacks which were 3rd best in the nation in 2014. If Scooby has he's called, continue his superb play in this his junior year, he will be a force to be reckoned by opponents, and should become more of a team anchor, if the Wildcats are to have a shot at the playoffs and a national title, whose presently at +20,000 on odds of being victorious for the National Title in 2015-16.
If you Bet on College football at SBG, that the present odds on the Wildcats to become the Pac-12 Champions are at +1,800. The prediction for the Wildcats in the 2015-16 is that they will win at least 8 games, but not win their Division or Pac-12 Title this season.