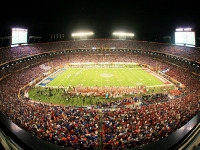 With the 2015-16 NCAA Football season peaking around the corner we continue to look at some of the favorite college teams, and in this article we preview the lately controversial Seminoles of Florida State University located in the State Capitol of Tallahassee, Florida. I know that as I am a 1962 of FSU.
But no for the Seminoles it's time for a new start after a mass exit of talented players that allowed the Seminoles to have 5 regular seasons without a defeat. Moving the Noles will look at their young recruited talent and transfers on both offense and defense as they seek to continue leading in the Atlantic Coast Conference during this 2015 season. As we move on into this preview a main question, is can the Seminole continue to be leaders of the ACC Conference.
Florida State is a 3-time defending Atlantic Coast Conference that in their regular last 2 seasons were undefeated, but for FSU to continue undefeated in 2015, is too much to expect, after they lost a lot of talent, especially from their offensive roster.
In the offseason the Noles lost QB J. Winston a 2013 Heisman and National Champion, R. Greene the FSU all-time leader for receptions, always dependable N. O'Leary the tight end and four seniors from their offensive line. However, they were able to get QB E. Golson a transfer from Notre Dame. Eventually the FSU starting QB, whoever that may be, will have D. Cook a stellar sophomore, if he returns and some talented freshman RB's and some very good WR's.
Also, their defense must fill some vacant spots, but their defensive line is very deep with talent, even with their departures in the offseason.
The offensive line will be okay with 2 junior transfers to help fill the gaps of exiting offensive line talent. With so much talent lost on offense, FSU are no longer favored to win the 2015 ACC Title. However, in Tallahassee there's a lot of football talent, in fact enough to make them favorites at +250 to win their 4th ACC Title consecutively.
When we preview teams, we normally look at key player, and in this case the Seminole expect their key player to be transferred QB E. Golson who during in 2012 season with Notre Dame he led his team to the National Championship game, then was suspended in 2013, and in 2014 threw for 37 TD's and 3,730 yards.
The Noles also return QB S. Maguire who was a back-up to QB Winston, and it is expected that QB Golson will be the starter, as he gives them the best chance at being in contention for yet another National Title and ACC Title in this 2015-16 seasons. Actually this season they are priced to contend for another National Title at +1,500 and win.
A very important game this season will be their match-up on the 7th of November at Clemson because their trek to the 2015 ACC Title passes thru 'Death Valley' and the Tigers of Clemson are this year's favorites to win that Title at +200, and with the Tigers playing at home in this game is a good reason for their favoritism. The winner of this game will likely be the winner of the Atlantic Division of the ACC. Also, remember, that just 2 week prior to the Clemson game, FSU plays arch rival at Georgia Tech which also will be an important match-up this 2015.
For those that Bet on College football at SBG sportsbook, you need to know that the experts are predicting will win 10 games and lose 2 games this season, the 1st at Georgia Tech and the 2nd at Clemson thus ceding the ACC Atlantic Division Title to the Tigers of Clemson.