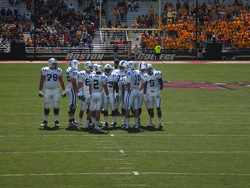 Now that the 2015-16 NCAA Football Bowl Season is underway we have another game this Saturday the 26th of December with the 2015 New Era Pinstripe Bowl with the 6-6 Indiana Hoosiers (Big Ten) playing the 7-5 Duke Blue Devils (ACC-Coastal) with at the Yankee Stadium in Bronx, New York and scheduled for 3:35 PM ET and on ABC TV.
For those that Bet on College football the betting odds have the favorite in the game as the Indiana Hoosiers at -2 ½ and with the Over/under at 70 ½ and -135 on the Money Line, while the Duke Blue Devils are +2 ½ and +115 on the ML. These 2 teams normally are playing in college basketball tournaments, but for a change they meet each other on a football field, and in Yankee Stadium.
The fans of the 6-6 Indiana Hoosiers had a season that was like riding a roller coaster, but were able to get a bowl invitation for the 1st time since back in the 2007 season. They started the season strong winning their 1st 4 games, then lost 6 consecutive games against their Big Ten opponents, then ending the season with 2 consecutive victories and getting this bowl invitation. In those last 2 games the team scored a total of 101 points with their offense.
Yes, that explosive offense got them to this point as they scored more than 40 points in their last 3 games in the season, and they averaged 36 points per game for the entire 2015 season. Overall that offense scored some 49 touchdowns on the with 25 touchdowns with their running game and 24 touchdowns via the passing game for the season, thus they can score on their opponents in either manner, but their running game may be slowed in this game if star RB J. Howard's knee injury does not let him start in this game
At QB they have N. Sudfeld who has had a good season passing for their 24 touchdowns and 3,185 yards with only 5 intercepts for the season. He and the offense need to pick up their game as of late their defense has struggled, as they have allowed opponents some 37 points each game this season, and that is close to the points they have scored each game. More troubling for the defense is that they have allowed some 6.5 yards on each play for their opponents to date.
If you're a fan of the 7-5 Duke Blue Devils, your football coach Cut has taken his team to a bowl game now for his 4th straight season. Certainly he would like to have seen the team have a better finish for their 2015 season as they lost their ultimate 4 of their last 5 games, and now face the Hoosiers.
The offense for the Blue Devils is called a read option offense, and they run the ball as good as any team in the country, and their QB T. Sirk is their leading rusher with some 650 yards this season. For the RB's their top back is S. Powell who has rushed for 535 yards in 2015. This duo of RB-QB could easily make it difficult for the Hoosiers defense, but put points on the scoreboard is another issue, since QB Sirk running the ball and passing has only accounted for 21 touchdowns this season.
On the defensive side similar to Indiana, the Duke team does not have any bragging rights, since their secondary for the season had a mere 9 interceptions and rank 85th for efficiency on pass defense as they have given up some 30 points in 5 of their ultimate 6 games this season. For the Blue Devil's defense to overcome the Hoosiers strong offense could be a major problem. Thus, the best chance that Duke has to win this bowl game is through staunch ball control and has possession with their progressive running game.
The sportsbook prediction for this Pinstripe Bowl game is that the Indiana Hoosiers prove to be too much offensively for the Duke Blue Devils and win the game 33-28 and cover the spread.