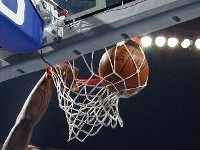 This past Monday the 16th of Feb. 2015 the NCAA BB season, that is nearing March Madness and classification of same brought us the regular season game between the No. 8 Kansas Jayhawks 21-5 of the Pac 12 playing the West Virginia Mountaineers 20-6 also of the Pac 12, with the tipoff was at 9 PM ET and seen on ESPN.
The scoring in the game stayed as close as the final score, with the 1st quarter seeing the Jayhawks scoring 30 and the Mountaineers scoring 33 thus the game went to half-time KU 30 and WVU 33. The 2nd quarter saw Kansas out score the Mountaineers by a slim margin of 2 points and a total of 31-29 thus West Virginia came out the winner with WVU 62 and KU 61.
The offensive leading scorers for the Jayhawks were forward-Ellis with 19 points, guard-Mason III-18 points, guard-Cubre Jr.-14 points, guard-Selden Jr.-4 points and off the bench forward-Traylor with 4 points. Leading the Mountaineers was guard-Staten with 20 points, off the bench guard-Carter-13 points, forward-Williams-8 points, guard-Browne-6points and forward-Holton with 5 points.
Comparing the team statistics KU scored 61 points and WVU scored 62 points, KU made 24 of 49 field goals for a .490 percent completion while WVU made 24 of 64 field goals for a .375 completion percent. On 3 point attempts, KU made 6 of 11 for .545 percent completion while WVU made 8 of 21 for a .381 percent completion. On Foul shots KU made 7 of 11 for .636 percent completion and WVU made 6 of 11 for a .545 completion percent. Both Kansas and West Virginia each committed 15 fouls in the game with none being of a technical nature or flagrant.
Interesting to look at the game leaders in the various categories, with the leading scorer for KU was Ellis with 19 and for WVU Staten with 20 points. For Rebounds KU's Cubre Jr. had 7 while WVU's Holton had 9. In Assists KU's Traylor had 3 and WVU's Staten had 4. For Steals KY's Mason III had 1 and WVU's Holton had 2. In Blocked shots KU's Lucas had 1 and WVU's Holton had 1.
This game came down to the Buzzer as the Jayhawks Ellis shot at basket hit the rim, and then rimed out as the Mountaineers who had just made a Staten layup to take West Virginia past Kansas 62-61.
That layup shot by Staten was not only the winning score but he also had 20 points in the game as he lead the Mountaineers to their 1st -20 wins in four NCAA BB seasons.
The Kansas Jayhawks who are the leading 3-point shooting team in the Pac 12 only managed to make 6 of their 11-3 point shots in the game. Then their leading scorer Selden who had been averaging some 16 points each game in their last 5 season games, only managed 4 points in this game, and that was a crucial point in KU's loss to WVU. The on Saturday the 21st of Feb. 2015 Kansas will host Texas Christian and Oklahoma State will host West Virginia.