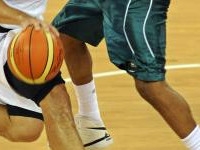 As the NCAA BB regular season over they are now involved in some very quick conference games to determine conference champions prior to the annual NCAA Tournament and March Madness. Yesterday we saw an ACC Tournament game with the No.3 Virginia Cavaliers 29-3, 16-2 ACC (1st ACC) playing the No. 19 North Carolina Tar Heels 4-10, 11-7 ACC (5th ACC) and the game was played at the Greensboro Coliseum in Greensboro, North Carolina and the game tipped off at 7 PMET and was seem on ESPN TV with 22,026 fans in attendance.
The scoring in this game was of a flip-flop nature as the No. 19 Tar Heels of North Carolina outscored the No. 3 Cavaliers of Virginia 3-23 so the game went to half-time with the Cavaliers having a 7 point deficit in the game to start the 2nd half of the game, In the second half of this game the Cavaliers rallied to outscore the Tar Heels 44-41 but that turned out to be, too little too late as the score ended with No.19 North Carolina 71 upsetting No.3 Virginia 67.
The top 5 performances for the Tar Heels of North Carolina came from forward-Jackson-22 points 4 rebounds 1 assist 1 steal, guard-Paige-14 points 2 rebounds 5 assists 2 steals, forward-Johnson-13 points 6 rebounds 3 assist 1 steal, forward-Meeks-7 points 9 rebounds 2 assist 1 steal 2 blocks and forward-Tokoto-6 points 6 rebounds and 5 assists.
The leading 5 performances for the Cavaliers of Virginia came from guard-Brogdon-25 points 5 rebounds 1 assist, forward-Gill-12 points 4 rebounds 3 steals 1 block, guard-Perrantes-12 points 1 rebound 3 assists, guard-Shayok-7 points 3 rebounds 2 assists 1 steal off the bench and forward-Atkins-5 points 1 rebound and 2 assists.
The team performances are interesting; Tar Heels with 32 rebounds 17 assists 7 steals 2 blocks 18 turnovers Cavaliers with 25 rebounds 8 assists 8 steals 2 blocks 13 turnovers
Next we take a look at the Team Statistics in scoring as the Tar Heels scored the winning 71 points as they attempted 42 field goals, making 23 for 55% completion, and on their 3-pointers they made 7 of 14 for 50% completion, while on their foul shots they made 18 of 27 for a 67% completion rate, and they committed 16 fouls in the game.
For the Cavaliers they score the losing 67 points in this game as they attempted 52 field goals and made 23 for 44% completion, and on their 3-pointers they made 5 of 16 for 31% completion, while on foul shots they made 16 of 20 for an 80% completion rate, and in this game they committed 17 fouls.
In the non-point scoring statistics Meeks of UNC had 9 rebounds while Brogdon of UVA had 5 rebounds. On assists Tokoto has 5 for UNC and Perrantes had 3 assists for UVA. For steals Paige had 2 for UNC while Noltze had 4 steals for UVA. On blocks Meeks for UNC had 2 while Gill for UVA had 1 block.
In this loss to the Tar Heels the Cavaliers gave up their highest FG percentage by opponents of 54.8 % for this season and since back in 2012 when Washington had a 58% field goal average. That along with the fact that overall the Tar heels shot a overall 54.8% which was the highest the Cavaliers have permitted in their last 163 games.
If you are a Virginia or North Carolina fan then you need to know that the Cavaliers of Virginia are now out of the ACC tournament, but will play in the upcoming NCAA Big Dance, while North Carolina plays Notre Dame Saturday night.