L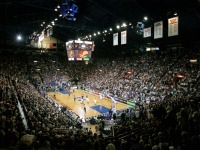 amont Jones, a junior shooting guard for the Iona Gaels, who averages 16 points, three boards and three assists a game, is the only Iona player who has seen BYU. He played them two times while still with Arizona. He doesn't remember anyone but Jimmer Fredette, but they remember him. BYU coach Dave Rose says he's one of the best they've seen, being really good off the dribble and able to hit 3-point shots all day. Check the March Madness Odds for Iona vs. BYU game
BYU and Iona, whose styles are both similar, face off Tuesday in one of the First Four games. Their up-tempo games should make it a fun one to watch. This is a difficult game to handicap, but the odds so far have BYU favored by 2. The styles of the two teams have led odds makers to set the over/under at 162 1/2 points, which seems just about right. If both teams score their average amount of points on the year, the final score would total 161.5.
Both teams were close to being the last at-large picks for the NCAA tournament, and while BYU enjoyed some success last year, Iona has not won here in seven attempts. Iona feels good about their chances, though. They love to run, and feel like they are the faster team. Jones thinks that the Gaels "have a speed advantage on them." This might be important for them to stay competitive in this game, as they have no player taller than 6-foot-7, although Brandon Davies, a 6-9 forward for BYU, explains that the Gaels are strong, and it will be a fight no matter their size.
Still, this Iona vs BYU game should be an exciting, high scoring game, and with few games on today, watching this game is one of the few options before the action heats up tomorrow. Play-in games are sometimes the most fun to watch, because the teams involved are so hungry to get to the next round.
Open an account for the best Sportsbook Parlay and Vegas Teaser Payouts in the Industry.