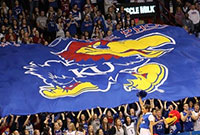 College Basketball is less than 4 months away from officially kicking off and sportsbook users who engage in NCAA Basketball betting can hardly wait to make their predictions for next year's champion. While the Blue Devils are the clear favorites, and for good reason, there are several other schools who could go all the way. One of those schools is Kansas whom the sportsbooks currently have them pegged as the third overall favorites for next year's championship. Their +955 odds are the best in the country behind Duke and Kentucky. When your basketball program is in the same sentence as those other two schools then you know something's going right.
The Jayhawk's will be entering the upcoming season riding a good amount of momentum. Kansas has won 12 straight regular season Big 12 titles, which is the longest streak in the NCAA. Incidentally, it is also 1 season shy of tying the record currently held by UCLA (they set that record during 1967 – 1979). The Jayhawk's will be looking to use their home field advantage in order to clinch the Big 12 next season and they should be able to find success doing so. Kansas' 40 straight home victories should be enough to convince NCAA Basketball betting fans of their future success at Allen Fieldhouse. One noteworthy aspect about this team's offseason is that they competed on behalf of the United States at the World University Games. Kansas posted a record of 8 – 0 and went on to win the Gold Medal. No doubt performing at that level on a global stage boosted this team's confidence for the upcoming season.

Kansas, like any other college basketball team, lost some players to the graduating class. That class includes forwards Jamari Taylor, Hunter Mickelson, and Perry Ellis – who went undrafted in the 2016 NBA Draft. Wayne Selden Jr. and Brannen Greene have hired agents, meaning that they will not be returning to Kansas. A new rule implemented in the 2016 NBA Draft allows players to participate in the combine and still be eligible to return to their schools, as long as they don't hire a representative. Cheick Diallo, who missed some games last season due to eligibility concerns, got fed up with the NCAA and all its rulings and entered the draft after his freshman year.

Even though a fair share of talent has left this roster, this team is in no way depleted. Bill Self will be entering his 14th season as the head coach and his record has proven to the world of NCAA Basketball betting that he knows how to consistently find success. Self will be relying on 11 returning players from last season, as well as some talented recruits. Evan Maxwell left Liberty in order to play for the Jayhawk's, as well as Malik Newman who parted ways with Mississippi State. Josh Jackson is a 5-star recruit with an ESPN grade of 97 who has committed to Kansas. Joining him is 4-star recruit Udoka Azubuike and 3-star recruit Mitch Lightfoot. Sportsbook users can be confident that Self will be able to put this team in contention for a national title.