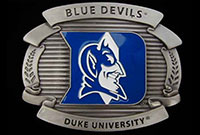 Sportsbook fans who bet on NCAA basketball are well acquainted with Duke University, almost as well as Mike Kryzewski. Under Kryzewski Duke has become one of the best basketball programs in the nation. Thanks to Coach K's efforts the Blue Devils have earned themselves a rap sheet the length of a basketball court. These accomplishments include 5 National Championships, 12 Final Four appearances (Coach K is currently tied with John Wooden for the most in NCAA history), 23 sweet sixteens, and 31 NCAA tournament berths. Kryzewski will be looking to add to his legacy this year and he has assembled quite a remarkable squad to get it done. In fact, those who bet on NCAA basketball will be able to understand just how powerful this superstar team is by simply glancing at the odds. Take a look:
Odds to Win NCAA Men's Basketball Championship 2016 – 2017

Duke+310
Kentucky+730
Kansas +955

The difference between Duke and the next two teams in line is remarkable. The reason Duke are such heavy favorites is because Kryzewski has put together a team with some of the biggest talents in college basketball. Duke was lucky enough to recruit both Jayson Tatum and Harry Giles as a package deal due to the fact that they are self-described best friends. Tatum and Giles led the USA Basketball's U19 to a gold medal during the FIBA World Championship. To top of one of Coach K's greatest recruitment classes Frank Jackson and Marquis Bolden were also brought along.

But five-star recruits aren't the only thing duke fans have to look forward to. Amile Jefferson will be returning for the Blue Devils next year. Before losing Jefferson to injury last season Duke was able to win 11 of their first 13 nonconference games. Due to his injury the 23 year old was granted a fifth year of eligibility. Grayson Allen, who was named third team All-American, will also be returning for the Blue Devils. Allen is a proven offensive powerhouse who will be consistent even under pressure.

Sophomores who will be returning next year for Duke includes Luke Kennard and Chase Jester. Kennard is one-dimensional player relying mostly on his shooting capabilities. But with opposing defenses busy guarding everyone else Kennard should find plenty of open spaces to nail the field goal. Jeter should have an easy time adjusting to his second year at Duke considering that most of the pressure and expectations will be placed on other players.

Duke's offense has ranked in the top tenth in the nation since back in 2008 and this year's roster should have no problem making that 11 years in a row. Next season the Blue Devils will have a nine man rotation that includes 8 McDonald's All-Americans and six five star recruits. Only one of those nine isn't a top-25 RSCI recruit. While Kryzewski has coached his fair share of memorable teams, this squad in particular is shaping up to be one of his best. With such great recruitments joining the Blue Devil's next season it's easy to understand why they are such heavy favorites for next year's bet on NCAA basketball futures.