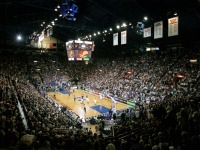 When it was all said and done this year, Kentucky was only second best, but as far as college basketball betting for 2015 goes, all signs point to the Wildcats reclaiming the top spot they accomplished in 2012. John Calipari's biggest hurdle on the way will arguably be the Duke Blue Devils. However, each team was differently affected by whether its key players decided to declare themselves eligible for the NBA draft. For example, while Kentucky retained Alex Poythress, Willie Cauley-Stein Dakari Johnson, and twin starting guards Aaron and Andrew Harrison -who will be joined by top recruits Karl Towns and Trey Lyles-, the Blue Devils lost Jabari Parker and Rodney Hood.
On the other hand, Duke is adding Jahlil Okafor and Tyus Jones. Simply put, the Blue Devils are trading Parker's and Hood's admittedly effective offense for some much needed defensive power as well as leadership in Okafor and Jones. Offensively speaking, Rasheed Sulaimon and Grayson Allen are the ones called upon to lead the charge, while Justine Winslow could be the glue that holds it all together. Duke certainly has the potential to sustain its strengths and also patch up their weak spots for next year.
That means that Coach K Mike Krzyzewski will certainly give Calipari a run for his money, but will he be able to throw a spoke on Kentucky's star-studded wheel. It could be argued that Calipari's greatest -if not only- problem heading into next year will be to keep all of his talent happy. If he manages to deflate any possible individual egos in favor of a for-the-greater-good-of-the-team mentality, then the Wild Cats will be nigh unstoppable. That's not to say that they will easily run roughshod over the entire tournament. With several teams with odds up to 50/1, this could be a pretty well matched season. Still, if you bet on college basketball favorites the Kentucky Wildcats to win the 2015 NCAA championship, you will be very unlikely to be disappointed when the dust settles and the smoke clears.