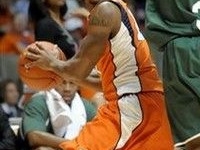 NBA Betting experts are paying attention to the Western Conference recently. Among the tough competition, the Houston Rockets are between a rock and a hard place.
On one hand they are one of the most exciting teams in the Western Conference, with the potential of making it big on the second half of the regular season and playoffs. They are definite contenders for the Western title. But, they are struck with the injury of one of their star players Dwight Howard, who will be likely out until March. The team's aspiration will ride with James Harden for the time being. It is time for the beard to shine.
Yesterday James Harden went off and proved that he is an All-Star and that he can carry the weight of the Rockets in his shoulders. Harden lead the Rockets with 40 points (20 in the Fourth Quarter) to a 127-118 on the road victory against the Phoenix Suns. His performance will definitely give hope to all Houston fans that will be fine without Howard for the time being.
Another Rockets' player that was also going off was Josh Smith, who provided with the necessary back up for Harden's efforts. When Harden was out of the game, he definitely stepped up to the challenge. This new tandem of players might just give NBA Betting fans hope that this team will not falter.
As for NBA Betting goes, the Rockets position on the Playoffs are perfectly safe, they will be one of the teams that will be expected to make it all the way. It shouldn't come as a shock if they start to lose a couple of games here and there while Dwight Howard returns.
But until then, they have a leader in James Harden. With the appropriate back up from the rest of the team, they just might be just fine until the big guy returns.