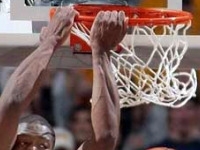 Today is a special day for NBA Betting, the two best teams in the league will face each other in what could very well be a preview of what we'll see come June 4th when the finals start. Unless we see an important resurgence from other teams, these are the two top teams that will earn the respective number 1 spots for the East and West Conferences. You get the picture; it is kind of a big deal.
Back when the season started probably nobody would have circled this date in the calendar as a great match up to look for. This could very well be the most important game of the season so far. And to think that LeBron James, James Harden, Kevin Durant, Russell Westbrook, Chris Paul or Derrick Rose will be a part of this game is proof that the NBA Betting is going through a transition phase were the younger stars are coming into their own.
The line for this game is currently Golden State Warriors as favorites with a spread of -1½ (-110) with a Total of 214½ (-110). A very close game is expected indeed, but will the Super Splash bros come out of Atlanta with the Win?
Although that the coaches for both teams are downplaying the game, they are thirsty to win it to boast being the best team in the league thus far. The Warriors are locked in as favorites due to their recent performances (specially the most recent one versus the Mavericks). The Hawks on the other hand saw their 19th game winning streak come to an end recently at the hands of the New Orleans Pelicans. But their recent performance since losing that game showed that they are still a powerhouse team in the NBA.
As for a NBA Betting prediction we can say that is Curry is still on fire from the previous game well, the Hawks will have to take extra measures to beat this Warriors team. Expect the Warriors to escape with this one, covering the spread.