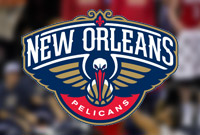 Fans betting on basketball at SBG Global sportsbook know that the New Orleans Pelicans are a one-man team, and that man is three-time All-Star Anthony Davis. Last season – his fourth with the Pelicans – Davis had 35.5 minutes, 24.3 points, 2.0 blocks, and 10.3 rebounds in 61 regular season games. Davis is not only New Orleans' highest-scorer but also a good defender. However, and not harp on it, he is only one man and cannot do everything. Sometimes he can't do anything; injuries have prevented Davis from playing a single full season in the NBA.

The good news is that the versatile power forward/center is under contract for the next five seasons, and while he has yet to mature into a team leader, his mere presence should attract free agents who wouldn't mind playing alongside one of the most talented young players in the league. The bad news is that the Pelicans' defense has a hole the size of, uh, something really, really big – a hole that neither Omer Asik nor Kendrick Perkins were able to cover. As a result, the Pelicans surrendered too many points in 2015-16. In fact, they ranked 28th on defense based on merit.

In the 2016 NBA draft, New Orleans selected Buddy Hield as the 6th overall pick in the first round (and traded second round picks David Michineau and Diamond Stone to the Los Angeles Clippers in exchange for Malian forward Cheick Diallo). According to NBA.com's Draft expert Scott Howard-Cooper, "the emphasis on getting better on defense" called for someone more along the lines of Kris Dunn. And the Pelicans might have even followed such advice, had the Minnesota Timberwolves not beat them to the punch (the Wolves selected Dunn as the 5th overall pick). However, Hield is considered a solid defender. In four years with the Oklahoma Sooner, Hield averaged 1.3 steals and 5.0 rebounds per game, as well as 17.4 points, 1.9 assists, and 31.7 minutes per game in 132 games. Hield was the 2016 consensus national player of the year, winning the Oscar Robertson Trophy, the Naismith Trophy and the Wooden Award, as well as the Jerry West Award. All these accolades seemed to indicate that at the very least the Pelicans will be a two-man team in 2016-17, which might improve their betting on basketball odds at SBG Global sportsbook.

Moreover, the Pelicans have reportedly signed New York Knicks unrestricted free agent Langston Galloway, who fits management's high character and defense-first role player profile. In addition to their defensive woes, however, New Orleans has lost the 17.0 points per game that Ryan Anderson contributed last season. The power forward signed a 4-year, $80 million deal with the Houston Rockets. All things considered, the New Orleans Pelicans odds of winning the 2016-17 NBA championship currently stand at +6550, which is not as bad as it gets when it comes to betting on basketball, but does leave a whole lot of room for improvement.