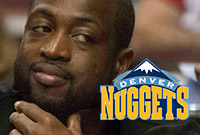 The Denver Nuggets offered Dwayne Wade $52 million for two years – the largest contract in the history of the franchise believe it or not. The new – good or bad depending on whom you ask – is that Wade turned down in favor of the Chicago Bulls. The decidedly good news is that the Nuggets shooting for a major superstar shows their commitment to becoming a favorite of people betting on basketball at SBG Global sportsbook. However, the shooting they need to be aiming for should take place on a basketball floor. Denver was a bottom-five shooting team from outside the paint, with only Danilo Gallinari and Gary Harris shooting above the league average on at least 200 three-point attempts.
The Nuggets scored 118.9 points per 100 possessions in 159 minutes with point guards Emmanuel Mudiay and D.J. Augustin together on the floor. While many people betting on basketball might not consider that to be a significant statistical sample, it does prove that they can do offensive damage with two playmakers together on the floor. Unfortunately, unrestricted free agent Agustin – whom Denver traded Randy Foye to the Oklahoma City Thunder for – signed with the Orlando Magic on July 7th, 2016. In 28 regular season with the Nuggets last season, Agustin averaged 23.5 minutes, 11.6 points, and 4.7 assists.

Nevertheless, a strong offense can still be built around the passing prowess of Mudiay and Nikola Jokic, as long as they have a good shooter to pass the ball to. And that shooter could be Denver's 2016 NBA draft first round selection, 7th overall pick Jamal Murray. The 19 year old point guard is a prolific three-point shooter and a solid free-throw shooter, as well as a good passer and a good rebounder for his position. In one season with the Kentucky Wildcats.

Murray averaged 20.0 points, 5.2 rebounds, 2.2 assists, 1.0 steals, and 25.2 minutes per game in 36 games, and shot .454 from the floor, .408 from the three-point line, and .783 from the free-throw line. the first freshman in Kentucky history to score 30 or more points in three games, and the first player in the John Calipari era to accrue 700 points for the season, Murray led the Wildcats in scoring and three-point shooting – and in the latter category he finished as the school's second all-time single-season 3-point maker (113).

The Denver Nuggets now have young, strong core with Mudiay, Jokic, Murray, as well as Gary Harris, Jusuf Nurkic, and 19th pick in the first round Malik Beasly. However, the team will need at least two of these youngsters to become true superstars if the franchise wants to turn into a favorite of people betting on basketball at SBG Global sportsbook. All things considered, there is cause for optimism, and it's more than likely that the Nuggets will return to the postseason in the next few years. Whether they become a championship contender depends on whether they acquire or home-grow a top tier star, preferably one that wants to live in Denver.