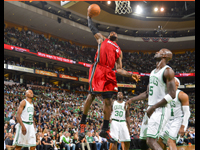 It's win or go home for the Miami Heat tonight as they face the suddenly surging Boston Celtics in game six of the NBA Eastern Conference Finals. The contest will be held in Boston's TD Bank Garden and is scheduled to begin at 8:30ET. You can watch all the action nationally on ESPN.
The Heat hope to avoid the fate of the Spurs, who last night lost their conference finals series to the Thunder four games to two in OKC. A loss in tonight's game would also duplicate last year's NBA Betting Championship series where Miami lost to Dallas in the same six games.
It appeared when these two teams initially met in South Beach, which now seems like a long time ago, but was actually Memorial Day, May 28th, the Heat might have little trouble getting past this aging group of Celtics to advance. A game one win of 93-79 with LeBron James scoring 32 and Dwyane Wade 22 seemed almost too easy, even while they were missing Chris Bosh.
Game two proved to be more difficult, but Miami held homecourt advantage and you would have thought momentum, emerging with a 115-111 overtime victory. King James had 34 in that one and they withstood a Herculian effort by Rajon Rondo who had 44 points, 10 assists and grabbed 8 boards.
Then things shifted to Beantown, where the Celtics looked like a different unit with their 10 point, 101-91 triumph in game three followed by their own homecourt OT win, 93-91 in the fourth matchup.
Then with the series tied at two wins each, came the pivotal game five back in Miami. The Heat needed to win this one to insure a game seven back here, no matter what transpires tonight in Boston. But it was not to be, as even with Bosh returning to play limited minutes, the Heat fell to the Celtics 94-90 setting up tonights potential clincher for Boston.
The oddsmakers are liking the Heat to avoid elimination, installing them as 1.5 point road favorites on a $110/$100 moneyline. The same money line exists for the over/under of 180 total points. Check the Sportsbook Odds for Miami Heat vs. Boston Celtics game.