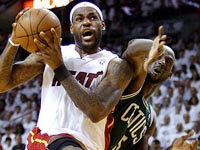 It was win or go home for the Miami Heat on Thursday night when they faced the Boston Celtics in the potentially series ending game six of the NBA Eastern Conference Finals in Beantown. As it turns out, the Heat will be returning home, but not to enjoy the golf links or sands of South Beach, but to meet the Celtics once again in a one and done playoff scenario for these two teams. The place will be American Airlines Arena and the time will be Saturday night at 8:30ET. This deciding game can be seen on ESPN nationally.
King James lived up to his title on Thursday, by all but single handily defeating Boston in the 98-79 Miami victory. While Dwyane Wade was a no show and Chris Bosh once again played limited minutes since returning from an abdominal strain, James scored 45 points and grabbed
15 boards as a one man wrecking crew, denying Bostons bid to advance to the NBA Championship Finals. He did allow five of his teammates to participate in the festivities by also pitching off 5 assists. He joined Wilt "The Stilt" Chamberlain as the only other player in the history of the NBA betting playoffs to post those statistics.
Wade could only muster 17 points and 4 assists, although in fairness to him, his opportunities were somewhat limited with James doing it all. Wade attempted 17 shots, hitting on only 6 and was 5 for 5 from the charity stripe. Bosh netted 7 points and had 6 rebounds seeing twenty eight minutes of action.
Rajon Rondo gave it the old college try with 21 points and 10 assists.
Paul Pierce had a horrible night at the worst possible time, scoring just 9 points on 4 for 18 shooting and missing all six of his attempts from beyond the arc. Kevin Garnett and Brandon Brass contributed only
12 points each for the losers.
Garnett and Pierce will have to rebound, no pun intended, along with Rondo having another strong performance if Boston is to advance to the NBA Finals against the Oklahoma City Thunder. It is hard to imagine James doing any more than he did on Thursday, but look for Wade and Bosh to be much more involved in game seven.
Miami is a solid 8 point home favorite to advance to the NBA Finals for the second consecutive year on a $110/$100 moneyline. The same moneyline holds for the over/under of 178.5 total points.