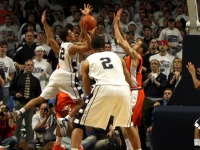 With the 2012 NBA Draft over, much of the focus around the league will turn to trades. A few teams like the Heat and the Thunder have a successful core to build around, but a number of other organizations are looking to make significant moves in the coming months to put them in playoff contention going into next year.
Is is possible Dwight Howard could replace LeBron James as the most hated player in the NBA odds? Now that King James finally has his ring and has done much damage control since his ill-fated "Decision," he seems almost likable as compared to Howard and his demands.
"Blackmail" is the word of the day, allegedly used by Superman to describe why he re-opted with the Magic for another year. In the meantime, he has apparently decided he wants to leave the land of Mickey Mouse after all.
Except for a trade, he is stuck in Orlando for the upcoming season. He has also made it clear, if traded anywhere other than to the Brooklyn (formerly New Jersey) Nets he will play just one season before exploring free agency. While the Nets would love to have him, the L.A. Lakers and Golden State Warriors are very interested as well. Golden State has gone as far as to say they would make the trade even if just for the one year.
It has been rumored, if the Nets cannot acquire Howard they would be interested in making a deal for Joe Johnson of Atlanta to keep Deron Williams around and perhaps adding Jason Kidd as a free agent, since Kidd says he wants to play with Williams wherever that may be.
The Lakers continue to dangle Pau Gasol like a cheap piece of jewelry, to anyone interested and Andrew Bynum may even be available for the right price, which of course would include any deal for Howard. The Minesota Timberwolves have expressed interest in Gasol too.
The Houston Rockets' Luis Scola is available, after failing to move him last year during the attempted trade of Chris Paul NBA Betting fiasco. The Rockets are also taking a look at Chicago's Omer Asik, potentially offering him more money than the Bulls organization could match. Another big man, center, Dejuan Blair may be available from the Spurs.
How about Brandon Bass of the Celtics to Memphis for O.J. Mayo? Mayo would look awfully good teamed with Boston draft picks, Feb Melo and Jared Sullinger in a new look Celt's attack.
Open an account for the best Sportsbook Parlay and Vegas Teaser Payouts in the Industry.