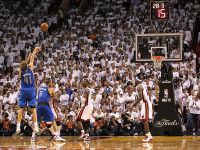 The Oklahoma City Thunder dominated the Los Angeles Lakers during their first game in this Western Conference semifinals matchup. The Thunder won the first game 119-90 and even had a 35-point lead at one time while making more than half of the their shots during the game. The Thunder only won 77-75 on the second game but made more than forty percent of their shots in that game and quickly came back in the later part of the game.
The Lakers will be heading back home to the Staples Center in the hopes of getting on the board in the series. The Thunder currently has a 2-0 advantage over the Lakers in the series. Start your NBA Betting action on Lakers vs. Thunder game.
The Lakers will be looking to try and improve on their field goal percentage. The Lakers struggled from the field on Wednesday by making only 38.5% of their field goals. This included a 2-15 run on three point shots. Kobe Bryant, who had 20 points in that game, missed all six of his three point shots. However, the Lakers did have a 13-14 record from the free throw line.
The Oklahoma City Thunder has had concerns about getting more support from players outside of the team's top three. Kevin Durant scored 22 of the team's 77 points on Wednesday. He combined with James Harden and Russell Westbrook for a total of fifty points during the game. The Thunder was able to get 18 fast break points, a number much higher than the five the Lakers were only able to get.
The rebounding statistics for the series have been relatively close. The Lakers had a 41-36 rebounding advantage over the Thunder in the second game and even outrebounded the Thunder 43-41 in the first game in spite of the Thunder's dominant performance. Check the Sportsbook Odds for Lakers vs. Thunder game.
The Lakers have a -2.5 advantage to win tonight's game at home. The game also has a 192 over/under. Moneyline bets are not available at this time although they should be relatively close and within 150 on both sides judging by how close the game is expected to be.
Open an account for the best Sportsbook Parlay and Vegas Teaser Payouts in the Industry.