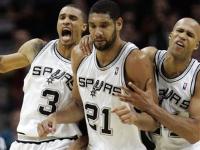 The venues change, but the teams remain the same as the San Antonio Spurs depart the Alamo City and travel to another city in Oklahoma to face the Thunder in game three of the NBA Western Conference Finals. Tonight's tip off in Chesapeake Energy Arena is scheduled for 9:00ET. You can join Ernie, Kenny, Sir Charles and Shaq live on TNT to see all the action.
It is appearing ever more likely that the winner of this series will be facing the Miami Heat for the NBA Championship. The Heat protected their homecourt advantage and are now up two games to none on the Boston Celtics. It is also as likely that if things don't go well tonight for the Thunder it will be the Spurs advancing as well. It is hard to envision this young, talented as they are, group from Oklahoma City coming back to win four in a row against the Spurs if they fail to win this evening. Start your NBA Betting action on Thunder vs. Spurs game.
All San Antonio has done lately is win twenty straight contests dating back to the end of the suppressed sixty six game regular season. They won game one in the AT&T Center 101-98 on Sunday, when Manu Ginobili came off the bench to score 26 points. His counterpart on the Thunder, James Harden was 7-17 from the field but 5-9 from beyond the arc accounting for his 19 total points. Tim Duncan registered a double, double of 16 points and 11 boards for the Spurs.
On Tuesday, in game two, San Antonio widened their margin of victory with a 120-111 win. Ginobili performed well once again contributing 20 points. But this was Tony Parkers night as he was 16 of 21 from the floor scoring a total of 34. Give props to sixth man of the year Harden in this one too as he netted 30 to go along with Kevin Durants 31 for OK City. Check the Sports betting Odds for Thunder vs. Spurs game.
Tonight's game has to be considered a "must win" for Oklahoma City. It appears the oddsmakers agree as they have installed the Thunder as 4 point home favorite in this one, if you're willing to lay $110 to win $100. Another $110 will be needed to bet the over/under of 206.5 total points.
Open an account to take advantage of the Best Initial and Reload Bonuses in the Industry.