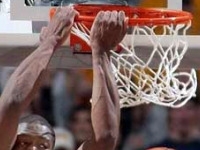 The Philadelphia 76ers has a potential to clinch a playoff spot tonight. The Sixers are looking to get the last spot in the East by either winning tonight or if Milwaukee loses tonight against Toronto. The 33-30 Sixers will be trying to clinch the spot on the road by Newark's Prudential Center. They will be taking on the 22-42 New Jersey Nets in the Nets' final home game before relocating not to far from Newark into Brooklyn.
The Nets have a 2-1 series lead over the 76ers this year. Their last game was on April 13 when the Nets won by six on the road. Start your NBA Betting action on Philadelphia 76ers vs. New Jersey Nets game.
The Philadelphia 76ers are only 4-7 in April but they have won two straight games. This includes an overtime win over Indiana, the third-best team in the East, on Saturday.
The 76ers do not have any injuries of note. Lou Williams has also been consistent for the Sixers with 15 points per game off of the bench. He has been in double digits seven times this month. Elton Brand also came close to his season high for scoring on Saturday when he had 20 against the Pacers. He also came close to a double-double with nine rebounds.
The New Jersey Nets will be celebrating the team's history in New Jersey, which dates back to 1967 in the ABA, throughout the game and will have a number of former Nets on hand to celebrate. The team will be moving to Brooklyn's Barclays Center next year.
The effect of the team moving to Brooklyn might have put a damper on the team's home performance this year. The Nets are only 9-23 at the Rock this year. Check the Sportsbook Lines for Philadelphia 76ers vs. New Jersey Nets game.
Deron Williams is not expected to play due to a calf injury. Williams leads the Nets with 21 points and 8.7 assists per game. Kris Humphries is leading the team with 11 rebounds per game and has also been proficient in recent weeks with 13.8 points per game.
The Philadelphia 76ers is favored to win with a -10 advantage. The game also has a 187.5 over/under. The Sixers will be looking to try and get into the playoffs while the Nets will simply be trying to leave the Garden State with a win.
Open an account for the best Sportsbook Parlay and Vegas Teaser Payouts in the Industry.