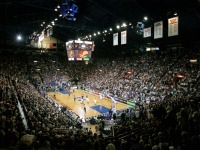 The 23-13 Orlando Magic will be taking on the 28-7 Oklahoma City Thunder on Thursday at the Amway Center in Orlando. This is the second time the teams have played each other this year. The Thunder won in Oklahoma City 97 -89 on Christmas Day. The game will air in the United States on TNT and will also air in Canada on TSN.
The Orlando Magic is coming off of a 102-95 win over Washington on Wednesday. The team is currently in fifth place in the Eastern Conference. Start your Basketball Betting action on the Orlando Magic vs. Oklahoma City Thunder game.
Dwight Howard has particularly set the team on fire in recent weeks in spite of concerns about his rumored desire to get out of Orlando after the season ends. He is getting a double-double this year with 20.1 points per game and 15.3 rebounds per game. He even leads the NBA in rebounds. J.J. Redick is a popular figure coming off of the bench with 11.3 points per game.
The Oklahoma City Thunder also played on Wednesday. They won 92-88 in Philadelphia. The Thunder is on a six game winning streak and is half a game ahead of the Miami Heat for the best record in the NBA. Kevin Durant is second in the NBA with his 27.9 points per game average. Russell Westbrook is getting 23.5 pointsper game, making the tandem of Durant and Westbrook one of the most prolific in the NBA. Serge Ibaka is also helping with an average of 3.2 blocks per game. Check the Basketball Odds for the Orlando Magic vs. Oklahoma City Thunder game.
The game is expected to be tight but the Thunder has a very minor advantage due to their better record. The Thunder has a -2 advantage over the Magic for the game. The moneyline for both bets is -105. The over/under for the game has been set at 190. This game is expected to be a real challenge for the two teams and will involve a great amount of competition between two of the most electrifying teams in the NBA.
Open an account for the best Sportsbook Parlay and Vegas Teaser Payouts in the Industry.