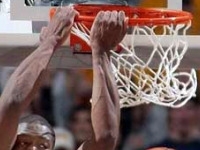 Orlando attempts to keep it's " magic " going, when they tip off game two of this years NBA playoffs tonight against the Indiana Pacers at Bankers Life Fieldhouse in Indianapolis at 7:30ET. The game will be televised nationally on the NBA network.
On Saturday, the Magic pulled off the improbable, by stunning the Pacers in their home arena 81-77. Superman was nowhere in sight and you wonder if beleagured coach Stan Van Gundy was making a statement without the super star, as well as a case to keep his job. Start your Basketball Betting action on Orlando Magic vs. Indiana Pacers game.
Instead of the man of steel, Orlando started a "big baby" by the name of Glenn Davis at center who went out and made a case of his own, with 16 points and 13 rebounds. With a pronounced height difference between Davis and Indiana center Roy Hibbard, Davis persevered even with Hibbard blocking nine shots along the way. Davis had 3 blocks of his own.
Even with a decent paint presence, this game was won from the perimeter. Starting guard tandem of Jameer Nelson and Jason Richardson together were good for 34 points. Richardson was 5 for 8 from beyond the arc. Orlando as a whole, did what they do best and made 9 of 24 three pointers outscoring the Pacers in that category 27-12.
Indiana did themselves no favors from the charity stripe either managing just 13 of 22 for 59 percent. The Magic employed little used Earl Clark at center for about 20 minutes when Davis was resting. The 6 foot ten inch Clark held his own against the bigger Pacer front liners.
This win is not new ground, so to speak, for Orlando, who have now won six in a row at Bankers Life Fieldhouse including two earlier this season. It should be interesting to see if the third seeded Pacers can turn that around tonight with a much needed victory. Check the Online Sportsbook Odds for Orlando Magic vs. Indiana Pacers game.
The oddsmakers think they will, installing Indiana as a 9.5 point home favorite on a $110/$100 moneyline, irregardless of the past history. The same moneyline applies to the over/under of 188 points.
Open an account for the best Sportsbook Parlay and Vegas Teaser Payouts in the Industry.