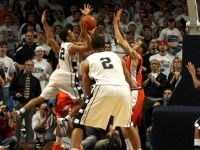 New Jersey will travel south down the eastern seaboard for their game versus The Miami Heat at American Airline Arena tonight at 7:30ET. The Heat face the unusual circumstance of losing three in a row. At Utah on Friday night, LeBron James did, what LeBron James does far too often by passing up taking the last shot of a 99-98 loss to the Jazz. Michael Jordan has got to be shaking his head.
Then, on Sunday in a nationally televised showdown with the Los Angeles Lakers, Kobe Bryant did what Kobe Bryant always does by dominating James and the Heat in a 93-83 drubbing in Hollywood. The Heat should get a lift with the return of Chris Bosh who missed the two losses due to the death of his grandmother. That, along with some good old home cooking, should aid Miami who has been victorious in ten straight games played on South Beach. Check the Basketball Odds for New Jersey Nets vs. Miami Heat game.
Miami, all of a sudden finds themselves trailing the Chicago Bulls by a full two and a half games for the best record in the Eastern conference. They are currently at 28 wins, 9 losses while 15-2 at home.
Kris Kardashian, oops, I mean Kris Humphries and the lowly Nets enter tonights contest at 12 wins and 26 losses with little hope of playoff contention. They currently trail the Knicks by 6.5 games for the eighth and final spot.
Their lone bright star is Deron Williams, the former Illini and Jazz standout, who showed what he is capable of with a 57 point effort against, albeit, the aforementioned Jordans struggling Bobcats on Sun. It took all of Williams points for the Nets to emerge with a three point victory 104-101. He does perform well in Miami too. He comes into this one with averages of just under 23 points and 10 assists in his last four played here. Start your Basketball Betting action on New Jersey Nets vs. Miami Heat game.
Irregardless of Williams presence, this task will be made tougher with the lack of Brook Lopez in the Nets lineup due to a bad right ankle. New Jersey has won back to back games only one time this season. As you might expect, Miami is a huge favorite to win by 13.5 points betting $110 to win $100. The same $110 is required to bet the over/under at 198 points, with most of them expected to be scored by the Heat.
Open an account for the best Sportsbook Parlay and Vegas Teaser Payouts in the Industry.