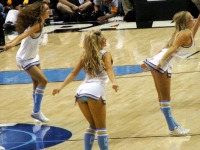 Two of the top three teams in the NBA's Western Conference square off tonight in tinsel town as the Thunder rolls into the Staples Center of Los Angeles in a game against the Lakers. This matchup can be seen as the second half of a TNT doubleheader beginning at 10:30ET.
Oklahoma City has been the premiere team of the west most of this season, replacing Los Angeles who had that distinction for several years prior. It marks the return of Derek Fisher to L.A., who shared the Lakers glory before being dealt to the Thunder via Houston, at the trade deadline. Oklahoma City enters this one on a four game winning streak with its last win beginning a road trip against Portland Tuesday night 109-95. Start your Basketball Gambling action on Oklahoma City Thunder vs. Los Angeles Lakers game.
This followed a very impressive 103-87 victory against the Miami Heat on Sunday at home. Tuesday, versus the Trailblazers, Kevin Durant, Russel Westbrook and James Harden, all exceeded 20 points, with Westbrook leading the pack with 32. He also helped out with 8 assists and 3 steals. The Thunder was 57 percent from the field and Durant was a perfect 7 for 7 in the first half. Oklahoma City has the second best record in the NBA, trailing only the Eastern Conference Chicago Bulls. The Thunder is 38-12 on the season and lead San Antonio by 2.5 games and tonight's opponent by 7. They are 16-8 on the road.
The Lakers have been playing well of late, having won three of their last four and are 8-3 in the last 11. Los Angeles beat Golden State in Oakland on Tuesday night 104-101. Kobe Bryant led all scorers with 30. He also had 5 assists. Pau Gasol had 19 points and grabbed 17 boards. Matt Barnes came off the bench to net 18. The game was not without controversy, as Andrew Bynum, through some sort of mental lapse, decided to put up a 3 pointer early in the third quarter of this tight contest, resulting in coach Mike Brown to bench him for the games duration. Check the Sports Betting Lines for Oklahoma City Thunder vs. Los Angeles Lakers game.
The last time these two teams met on 2/23 in Oklahoma City, the Thunder emerged with a convincing 100-85 victory. Los Angeles is the slimmest of home favorites by 1 point on a $110/$100 moneyline. The same $110 will be required to play the over/under of 200.5.
Open an account for the best Sportsbook Parlay and Vegas Teaser Payouts in the Industry.