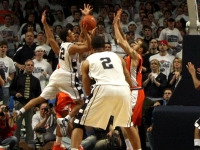 The Oklahoma City Thunder have secured the second playoff spot in the Western Conference and will be playing Denver, Dallas or Utah depending on how those teams perform. Tonight's game between the 47-18 Thunder and the 36-28 Denver Nuggets could technically be a first round playoff preview of sorts.
The Thunder has won both of its games with the Nuggets this year. The last one was on March 15 when the Thunder had a 103-90 victory at home. The Thunder's Kevin Durant also scored 51 points during the first matchup. This is his highest single-game total in his career. Start your NBA Betting action on Denver Nuggets vs. Oklahoma City Thunder game.
Because the Thunder has secured its playoff spot, it is unclear as to what the team will be doing for its final regular season game. It is clear that James Harden will more than likely be out after suffering a concussion from a hard elbow from the Los Angeles Lakers' Metta World Peace. Durant and Russell Westbrook could be rested, seeing that they are the first and fifth top scoring players in the NBA. There is no information available at this time over what the Thunder will do.
However, the Thunder will still have Serge Ibaka on the court. Ibaka leads the NBA with 3.65 blocks per game. This is more than one block higher than the nearest player.
The Denver Nuggets, who are 7-3 in their last ten, need to win in order to keep a hold of the sixth spot in the West. This would give the Nuggets a matchup with the Lakers if they finished in sixth. Check the Sportsbook Odds for Denver Nuggets vs. Oklahoma City Thunder game.
Al Harrington is expected to play tonight. Harrington missed Sunday's win over Orlando from a right knee injury. Harrington has 14.3 points per game. This is fourth on the team and the tops from all bench players. Ty Lawson has 16.3 per game and 22.2 in his last five. He almost reached the thirty point mark against Phoenix on Saturday.
Oklahoma City is favored with a -1.5 line. This is one point less than what the opening line had stated. The over/under is also very high with a 210.5 total.
Open an account for the best Sportsbook Parlay and Vegas Teaser Payouts in the Industry.