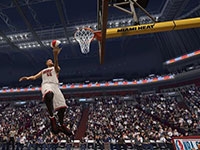 What better way to spend a Saturday night in Hollywood than attending a game seven of the opening round NBA playoffs in whats sure be be a star studded affair both on and off the court. I'll bet Jack Nicholson is in the process of canceling a date as we speak. Staples Center surely will be the place to be and you can be their, at least in spirit, as the contest will be televised by TNT at 10:30ET.
There was some drama leading up to game six, when Kobe Bryant came down with a serious stomach ailment and it was unclear as to whether or not he would be able to play. He described his Denver hotel room as looking like a scene from "The Exorcist," an apt description by someone from the land of cinema. Start your NBA Betting action on Denver Nuggets vs. Los Angeles Lakers game.
But Kobe did his best Michael Jordan impression and made his way onto the court. He looked a lot like MJ too, as he scored a team best 31 points. Unfortunately, neither Pau Gasol nor Andrew Bynum were able to put on a show of their own and the Nuggets staved of elimination with a solid 113-97 home win.
Gasol was simply terrible, scoring 3 points and having 3 rebounds. Bynum was able to add only 11 points, but did grab 16 boards.
The Nuggets Ty Lawson led all scorers with 32 points. Cory Brewer had 18. Kenneth Faried is averaging a double, double of 11 points and 10 boards in this series and Bynum has four double, doubles in the six game played thus far. Look for him to come out strong in the all important elimination game on Saturday.
The Lakers opened the series with two home victories, winning the first one by 15 points. The second was closer (4), but they left L.A. with a two games to none edge. Give George Karl and the Nuggets credit for staying the course with wins in game three, five and six, while facing elimination in the latter two. Check the Sportsbook Odds for Denver Nuggets vs. Los Angeles Lakers game.
Game seven will be all the more interesting and most likely much tougher for the Nuggets to win, due to the return of Metta World Peace from his suspension. World Peace is arguably the Lakers best defender. Los Angeles is a 5 point home favorite, if you'll lay $110 to win $100. Another $110 will be required to bet the over / under of 198.5.

Open an account for the best Sportsbook Parlay and Vegas Teaser Payouts in the Industry.