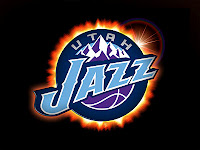 The San Antonio Spurs are heading into the Beehive State to play against the Utah Jazz at Salt Lake City's EnergySolutions Arena. The 40-14 Spurs are currently on an eleven game winning streak and have barely surpassed the Oklahoma City Thunder for the West's top record. The Utah Jazz is only 29-28 and is one and a half games out of the playoffs.
The Spurs have won both games that they have played with the Jazz. The last one was yesterday in San Antonio when they won 114-104. Start your Basketball Betting action on San Antonio Spurs vs. Utah Jazz game.
The San Antonio Spurs have not only won eleven games in a row but they have also lost only three games since the start of March. In fact, this is the second time that the Spurs have gotten a winning streak this long. The Spurs had eleven in a row in February before losing the twelfth game to Portland on February 21.
The Spurs will be trying to take on the Jazz with a full and healthy team. Tony Parker, who had 28 points yesterday against the Jazz, leads the Spurs with 19.1 points per game.
The Utah Jazz will be looking to stop the streak. The Jazz is 20-8 at the EnergySolutions Arena. Check the Sports Betting Lines for San Antonio Spurs vs. Utah Jazz game.
Paul Millsap was severely limited in the last game with the Spurs. Millsap, who has been suffering from an illness, only have two points in 21 minutes. This was much lower than his usual totals. Millsap has played in 31.9 minutes per game this year and also has 16.3 points per game. This makes him second to Al Jefferson. Jefferson has 19.6 this year and had 19 points and 10 rebounds yesterday.
Although the game is in Utah, the San Antonio Spurs have a very narrow advantage over the Jazz. The Spurs are -3.5 favorites. This is a little less than the -4.5 that was used on the morning line. The moneyline numbers are not available but a 209.5 over/under is available for people to be on for tonight's game.
Open an account for the best Sportsbook Parlay and Vegas Teaser Payouts in the Industry.