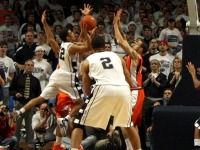 From the warmth of South Beach to the frozen tundra of Toronto. This is what the Big 3 and the rest of their band are up against when the Miami Heat tip it off against the Toronto Raptors at the Air Canada Centre tonight beginning at 7:00ET. Fortunately, the game will be played indoors.
This could be a bit of a " trap " game, for the Heat, with the travel factor and Miami's seemingly easy win against last years final's foe Dallas last night. The Mavericks were no match for the Heats relentless defense in the 106-85 Miami victory. They held the Mavs to 42.3 percent shooting from the floor and outrebounded them 44-29. Had it not been for Dirk Nowtzki's 25 points and Dallas shooting 9 for 24 from beyond the arc, this may have been a blowout of epic proportions. Start your NBA Betting action on Start your Basketball Betting action on Miami Heat vs. Toronto Raptors game.
Even the Big three did not need to over exert themselves on offense with LeBron James and Chris Bosh scoring 19 each and Dwayne Wade pitching in with 16. In fairness to King James, he has been battling a few nagging injuries of late. Miami (36-13) continues to trail first place Chicago in the Eastern Conference by 3.5 games, albeit 2 in the loss column. They are 15-11 on the road.
Toronto is closer to last then first with a season record of 17-34 and just 9-16 at home. The Raptors are looking for that elusive two wins in a row since last accomplishing it over two months ago. If they are to do it, it will have to be done without Jerryd Bayless who has been lost for the season with a tear in his oblique.
Even without Bayless, they beat Denver 105-96 on Wednesday. The Nuggets had been playing well of late including a big win versus Chicago on Monday. Andre Bargnani netted 26 points in the win over Denver and Jose Calderon had a 10/10 double, double. Check the Online Sportsbook Odds for Miami Heat vs. Toronto Raptors game.
The Heat have won their last seven played against the Raptors. Miami is a 7 point road favorite if you're willing to lay $110 to win $100. You'll need to lay down an additional $110 on the over/under of 192.

Open an account for the best Sportsbook Parlay and Vegas Teaser Payouts in the Industry.