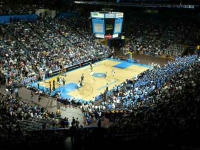 Its game three tonight in this NBA playoffs first round matchup between the Indiana Pacers and Orlando Magic. The venue changes from a fieldhouse in Indianapolis to the Amway Center in the land of Disney. The game can be seen nationally beginning at 7:30ET on NBA TV.
The Magic got off to a surprisingly good start in the series opener on Saturday, considering Superman was stuck in the phone booth, with Dwight Howard out for the remainder of the postseason. In that one, their backcourt of Jameer Nelson and Jason Richardson scored 34 points combined and Orlando outscored Indiana 27-12 from beyond the arc. The final score was Magic 81, Pacers 77. Start your Basketball Betting action on Indiana Pacers vs. Orlando Magic game.
On Monday, in game two, the Magic backcourt had no such success as the Pacers tightened down the hatches (and their defense) holding Nelson to just 4 of 13 from the floor and Richardson 1 for 5 including both of his attempts from three point range. The result was a 93-78 Indiana victory tying the series at a game apiece.
Even in Saturdays loss by Indiana, they were able, for the most part, to stymie Orlando in the second half. That trend continued on Monday, when the Magic held a 50-45 lead early in the third quarter. Indiana responded by outscoring Orlando 30-13 the rest of the third. The Pacers offense also improved with three players scoring 18 points each.
George Hill was joined by Danny Granger with 18 and David West who besides his 18 point contribution also added 11 boards and pitched off 4 assists. Paul George had 17 points for the winners. Check the Online Sportsbook Odds for Boston Celtics avs. Atlanta Hawks game.
Glen Davis led the Magic with 18 points and 10 rebounds. Orlando's JJ Redick was just 1 for 5 in three point attempts and finished with a total of 13 points. Ryan Anderson was 3 for 8 from beyond the arc and had 11 points in the contest.
The win ended a six game home losing streak for the Pacers versus Orlando going back to April of 2010. Indiana is a 3 point road favorite tonight, if you'll lay $110 to win $100. Another wager of $110 will be required for the over/under set at 183.5.
Open an account for the best Sportsbook Parlay and Vegas Teaser Payouts in the Industry.