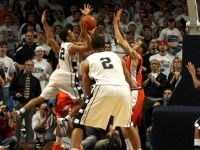 NBA betting fans went to bed this past Friday after the Hawks claimed the top spot in the league by defeating Curry and the Golden State Warriors. Then, yesterday the Hawks had to go to Memphis and face the underrated Grizzlies.
To say that the Hawks met their match would be an understatement, they faced a formidable adversary that for the time being has not been regarded with the same light that the Warriors and the Hawks have. And, why not? They have an excellent record as well, and they will surely be on the playoffs this season. After a tough, intense basketball game, the Grizzlies beat the Hawks 94-88.
NBA betting players take into consideration when the Grizzlies are playing and often are picked to be the ones to win, however the league and the press do not seem to take them seriously. In fact, the Grizzlies have a very good chance to not only excel in the Playoffs; you have to consider them as real contenders for the Western title. What we saw yesterday could also have been another finals preview.
Memphis has been a tough competitor on the West for several years now. Gasol, Conley, Allen and Randolph are bonafied stars, and instead of losing steam like other teams on the conference they appear to mature into a consistent solid squad. In the second half of the regular season if they continue to produce wins and keep this pace, they could make a case for the number 1 spot on the Western conference.
Even with a very respectable record of 38-13, the Grizzlies are not getting the respect that they deserve. At least not their players, it is no question that they have all-star caliber players on the team and yet only Marc Gasol will be playing this Sunday for the Western Stars. Many are calling the snubs outrageous.
In the end, all this lack of recognition the Grizzlies are dealing with, could translate for more fuel to their fire. In other words, take this advise, if you are thinking of NBA betting against the Grizzlies, make sure you thinking it over.