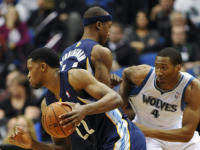 The Western Conference is having some red hot action for NBA Basketball Betting, and last night we had another clash of teams that are hoping to make this their season. The Clippers (minus Blake Griffin, out until late February) hosted the Memphis Grizzlies with hopes to defeat the second top team in the Western Conference.
Despite Chris Paul having an amazing performance last night, this game was a heart breaking loss for the Clippers, who were edged out by the Grizzlies 90-87. This loss could prove costly, now that they dropped to the 6th spot in the West (losing momentarily the coveted home court advantage position), plus with the status of how the West is constantly shifting, the Clippers could have their playoff spot in jeopardy. Fear not, NBA Basketball betting fans, this is still a minor possibility at the time, but should the Clippers have more heart breaking losses like this, it could become a horrible reality.
Chris Paul was the hero and the villain last night, as he managed to score 30 points and put up 10 assists, having one of his best games with the Clippers uniform. However, he had four total turnovers in the game (twice his game average), one of hem was crucial as he loss the ball in the final seconds of the game, when the Clippers were just one point behind the Grizzlies.
As for Memphis, the Grizzlies are a force to be reckoned with. This team has shown time and time again that they are to be considered in the conversation of the best 3 team in the NBA. They are slightly behind the Warriors and the Hawks, but they do not get the recognition they deserve. Last night's effort and ability to steal (quite literally) the win from the Clippers was enough to sustain their case as tittle contenders this NBA Basketball Betting season.