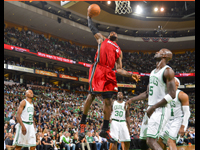 NBA basketball betting had a bit of an earthquake this week when it was announced that former Celtics star Rajon Rondo opted to be traded to the Dallas Mavericks. The bulk of the trade is as follows.
The Mavericks get Rajon Rondo and Dwight Powell, while the Celtics will get Brandan Wright, Jameer Nelson, Jae Crowder, a 2015 First-Round pick and a 2016 Second-Round Pick, plus a $12.9 Million trade exception. Thus pretty sets two narratives, first you can kiss the Celtics season good bye, they will go under full rebuilding and very likely the team will get a complete overhaul. As for the Mavs, with Tyson Chandler and Dirk Nowitzki will make the West an even tougher conference this year.
The west is already perhaps a conference where there will be a ton of competition. What the mavericks have done here is upgrade their team to compete against other teams in the conference that can potentially represent some obstacles should they make it to the Playoffs. This conference has Curry, Westbrook, Paul, Lillard, Parker, top class point guards. What Dallas is anticipating is getting Rondo healthy and motivated enough for him to be the tough point guard defender that he was in past seasons with the Celtics. NBA basketball betting will now see things shifting towards a tougher Western Conference.
Are the Mavericks contenders now? Well, it all depends on the chemistry that Rondo can have with his new teammates. They are all championship-hungry, but they have a tough road ahead of them. However the chips may fall on the remainder of the season we can only anticipate a much more exciting Western Conference. If you were to ask us, the Mavericks might have come with the best out of this deal, but the true winners of this trade are the NBA basketball betting fans.