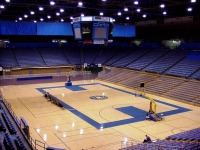 Its game two tonight in South Beach as the Eastern Conference second seeded Miami Heat try to make it a second win in a row versus the third seed Indiana Pacers in this NBA semifinals playoff series. The tip off at American Airlines Arena is scheduled for 7:00ET and the game can be seen nationally as the first half of a TNT doubleheader to be followed by the opening game of the Clippers and Spurs series from San Antonio.
Miami won game one of this matchup, but lost a member of the band when Chris Bosh suffered a severe abdominal strain. The band's lead singer, LeBron James showed why he was named the leagues MVP earlier in the weekend, by scoring 32 points. Backup vocals were handled by Dwayne Wade with 29 points of his own. But the bass guitarist, Bosh, of this trio, may be gone for awhile. Start your NBA Betting action on Pacers vs. Heat game.
The Pacers got off to a good start in the series opener leading by 9 points in the first half. You got the impression the Pacers had to get the Heats attention like "hey, there's a game being played here," before the remaining dynamic duo responded in the second half, at that point minus Bosh. King James and D. Wade were responsible for 22 of the 25 points scored by Miami in the fourth quarter.
David West and Roy Hibbard scored 17 apiece for the losers. Miami's daunting defense did their thing against Paul George and Danny Granger, holding the pair to 13 points on a lowly 2 of 15 shooting from the field. You can show some pity for Granger, as he has the daunting task of guarding James on the defensive end.
With increased minutes being given to the starters as the playoffs progress, that is alot to be expected. Check the Sportsbook Odds for Pacers vs. Heat game.
James logged 38 minutes on Sunday in the Heats 95-86 victory. Miami is a 7 point home favorite, if you are willing to wager $110 to win $100. Another bet of $110 will be required for the over / under of 185.5.
Open an account for the best Sportsbook Parlay and Vegas Teaser Payouts in the Industry.