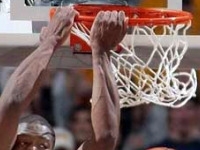 Is the NBA betting on foreign prospects? The annual draft traditionally focuses on homegrown talent, but there is no denying that international stars have helped make the league what it is today. The impact that players like Dikembe Mutombo, Arvidas Sabonis, Rik Smits, Dirk Nowitzki, and more recently Tony Parker is indelible. This year's draft class has been touted as one of the most promising in a long time, and while foreign prospects may not be capturing the top picks, they will certainly be hot commodities.
First of all there is Australian 18 year old guard Dante Exum. Though born in Melbourne, Exum's American father Cecil won an NCAA championship in 1982 with the University of California, alongside future legends Michael Jordan and James Worthy. Cecil was drafted by the Denver Nuggets in 1984 but ended up playing in Australia's National Basketball League for such teams as the North Melbourne Giants, Melbourne Tigers, and Geelong Supercats. Dante has participated in the FIBA Under-17 World Championship and the 2013 FIBA Under-19 World Championship, as well as the 2013 Nike Hoop Summit. Exum is expected to be drafted by the Magic.
Then there is Jusuf Nurkic from Bosnia. The 6'11'' center has stood out in Europe and not just because of his size but also because of his finesse. The savvy young player has cut his teeth in international competition, but whether he has the chops to make it in the NBA has yet to be seen… and we will surely see it because barring some unforeseen event he will be picked in the first round by the Boston Celtics.
Finally, there is Swiss Clint Capela. Like Exum, Capela participated in the Nike Hoop Summit playing for the World Team. Additionally, he was named the Best Young Player and Most Improved Player of the 2013–14 LNB Pro A season (France's major professional league). We all know what a player with a French background can do, so all that's left to do is wait for Capela to be drafted by the Phoenix Suns (presumably) and see if he lives up to the expectations of Baskteball betting fans.