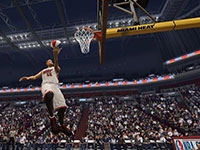 NBA betting on the upcoming draft official had to rearrange its predictions on account of Joel Embiid's injury and subsequent surgery. Though the procedure -in which two screws were inserted into the center's right foot's navicular bone- went well, there is no word on when Embiid will return to activity.
As a result, the Kansas alumnus lost his spot as the most likely to be the first overall pick. Here is the updated NBA.com mock draft:

First round

1. Jabari Parker (Celeveland Cavaliers)
2. Andrew Wiggins (Milwaukee Bucks)
3. Julius Randle (Philadelphia 76ers)
4. Dante Exum (Orlando Magic)
5. Noah Vonleh (Utah Jazz)
6. Joel Embiid (Boston Celtics)
7. Aaron Gordon (Los Angeles Lakers)
8. Marcus Smart (Sacramento Kings)
9. Doug McDermott (Charlotte Hornets)
10. Nik Stauskas (76ers)
11. Dario Saric (Denver Nuggets)
12. Rodney Hood (Magic)
13. Adeian Payne (Minnesota Timberwolves)
14. Gary Harris (Phoenix Suns)
15. P.J. Hairston (Atlanta Hawks)
16. Tyler Ennis (Chicago Bulls)
17. Jusuf Nurkic (Celtics)
18. Clint Capela (Suns)
19. K.J. McDaniels (Bulls)
20. Zach Lavine (Toronto Raptors)
21. T.J. Warren (Oklahoma Thunder)
22. James Young (Memphis Grizzlies)
23. Elfrid Payton (Jazz)
24. Vasa Minic (Hornets)
25. Kyle Anderson (Houston Rockets)
26. Shabazz Napier (Miami Heat)
27. Jerami Grant (Suns)
28. Mitch McGary (Los Angeles Clippers)
29. Jordan Adams (Thunder)
30. Jarnell Stokes (San Antonio Spurs)

Second Round

31. Bogdan Bogdanovic (Bucks)
32. Glenn Robinson III (76ers)
33. Cleanthony Early (Cavaliers)
34. Thanasis Antetokounmpo (Dallas Mavericks)
35. Walter Tavares (Jazz)
36. Deonte Burton (Bucks)
37. Spencer Dinwiddie (Raptors)
38. Jordan Clarkson (Detroti Pistons)
39. Damien Inglis (76ers)
40. C.J. Wilcox (Wolves)
41. Deandre Daniels (Nuggets)
42. Joe Harris (Rockets)
43. C.J. Fair (Hawks)
44. Dwight Powell (Wolves)
45. Patric Young (Hornets)
46. Markel Brown (Washington Wizards)
47. Jahii Carson (76ers)
48. Johnny O'Bryant (Bucks)
49. Ioannis Papapetrou (Bulls)
50. Cameron Bairstow (Suns)
51. Jordan Bachynski (Mavericks)
52. Isaiah Austin (76ers)
53. Nick Johnson (Wolves)
54. Artem Klimenko (76ers)
55. Khem Birch (Miami Heat)
56. Jabari Brown (Nuggets)
57. Semaj Christon (Indiana Pacers)
58. Melvin Ejim (Spurs)
59. James Michael McAdoo (Raptors)
60. Alessandro Gentile (Spurs)

If the Cavs were to pass on Embiid due to its injury, it would hark back to last year's draft when they picked Anthony Bennet in lieu of an injured Nerlens Noel. As basketball betting cognoscenti might remember, the move backfired on Cleveland, as Bennet went on to gain the dubious honor of being considered one of the worst first overall picks in recent history.